'I'm so excited that I'm not playing Ashley any more!' says former Emmerdale star John Middleton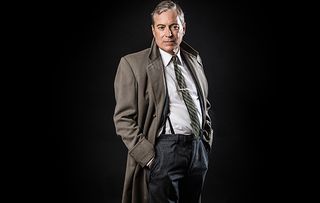 Life after Emmerdale for John Middleton is proving to be very exciting, as he reveals to Soaplife
In Emmerdale, John Middleton broke the nation's heart when vicar Ashley Thomas died. But John's new stage play means he's not missing the Dales at all!
What's the story?
Having played Emmerdale vicar Ashley Thomas for more than 20 years, you'd think actor John Middleton might be feeling a tad bereft at not being in the village any more. But not a bit of it. "I'm actually very excited," he said enthusiastically, speaking to Soaplife on the phone from his Harrogate home. "Right now, I'm in my little office preparing for my latest role. From January, I'm appearing in a play touring the country called Strangers on a Train and I'm playing a detective called Arthur Gerard. He's a hard-bitten, American cop who couldn't be more different to Ashley – and I couldn't be more delighted about that!"
John Middleton reveals all to Soaplife
Soaplife: What's Strangers on a Train about?
John Middleton: "It's adapted from a novel by Patricia Highsmith, who also penned The Talented Mr Ripley, which was made into a film starring Matt Damon, Jude Law and Gwyneth Paltrow. The play is a psychological thriller and it tells the story of two men who meet on a train and whose lives become entangled after one of them proposes they 'trade' murders. I won't give away more of the plot. I don't want to spoil it."
S: Presumably your character investigates the crime…
JM: "He cracks it, yes! The two men in question are played by Christopher Harper, who was Nathan Curtis in Coronation Street, and Jack Ashton, who plays vicar Tom Hereward in Call the Midwife. Hannah Tointon, who played Katy Fox in Hollyoaks, is also a member of the cast."
S: How do you feel about treading the boards?
JM: "I'm really looking forward to it. I haven't done any theatre for years. The last time was when Mark Charnock, who plays Emmerdale's Marlon Dingle, and I performed a couple of two-hander plays for charity back in the early Noughties. On a professional basis, it must be about 25 years since I last did any theatre – although at the beginning of my career it was all I did and all I wanted to do."
S: Do you like the thought of touring?
JM: "I'm very excited about that, too. We're away for more than three months and we'll be performing in lovely old theatres in some great places – Glasgow, Brighton, Manchester, Cardiff, Richmond, York… I'm a bit nervous about the York dates because I have many friends, including Emmerdale pals, who are coming to see the play there."
S: Do you see much of your former workmates?
JM: "Charlotte Bellamy, who plays Laurel Thomas, is a very good friend. She lives in Harrogate, too, and I see her when she's not too busy. We had lunch together not long ago, then we took our dogs for a walk. I also saw Mark Charnock recently at the Harrogate Literary Festival."
S: Do you miss Emmerdale?
JM: "Of course, but I have no regrets. The only thing you know about a show like Emmerdale is that one day – unless you want to still be there when you're pushing a Zimmer frame around – you'll have to go. You like to think you'll be able to choose your moment of departure yourself and, while that wasn't strictly the case with me, I embraced Ashley's dementia story wholeheartedly."
S: The story meant a lot to you, didn't it?
JM: "Yes. It's the best story I've ever been given. You can't underestimate the relevance of it today as dementia rapidly becomes the most important health concern we face in the UK and the rest of the Western world. It affects so many families. The strength of the writing and the research, in addition to how relevant the subject matter is, pushed me to the fore, which was very flattering and rewarding."
S: You're still involved with dementia charities, aren't you?
JM: "Absolutely. It's not something I wanted to walk away from and I embrace it. I'm involved with the Alzheimer Society's Memory Walks and they're great fun. I make a speech before the walkers set off, cut ribbons and give out medals. It's so touching that there are still so many people who come up to me and thank me for Ashley's story. They can relate to it because dementia's affected members of their families, too."
S: What do you usually like to do in your spare time?
JM: "I love sailing, but I'm not doing much of that at the moment as we're going into winter. I'm a very keen supporter of Newcastle United… and I also like doing DIY. Yes, really! When I first started out as an actor and I was earning diddly-squat, I couldn't afford to employ anyone to do odd jobs around the house, so I learned how to do them myself. My son recently moved into a flat and I've been doing a lot of work there – putting up shelves, re-panelling doors, painting and decorating…"
S: With Christmas fast approaching, what are you hoping for this year?
JM: "To have a wonderful time with my wife, our two sons and daughters-in-law. We don't have grandchildren yet, but hopefully there'll be some in the post before too long!"
For more details on Strangers on a Train, please visit www.atgtickets.com/shows/strangers-on-a-train
For more details on the Alzheimer Society's Memory Walks, please visit www.memorywalk.org.uk
Meanwhile, Emmerdale continues tonight on ITV at 8.00pm.
Get the What to Watch Newsletter
The latest updates, reviews and unmissable series to watch and more!