Francesca Annis on turning 70, being mentored by Elizabeth Taylor and 26-hour bus rides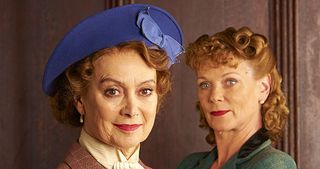 From imperious Lady Ludlow in Cranford to adulterous Anna Fairley in Reckless, Francesca Annis has played a fair few formidable women in her time.
Over the last couple of weeks Home Fires' Joyce Cameron, the former President of the Great Paxford Women's Institute, has proved to be the most fearsome of all, as we've seen her ruthlessly battle to maintain her status and dignity after being supplanted in the WI by fiery Frances Barden (Samantha Bond).
So it's safe to say that TV Times was a wee bit daunted at the prospect of chatting to Francesca about the hit ITV wartime drama Home Fires (Sunday, ITV, 9pm) and her long and varied career. We needn't have worried though because the friendly, glamorous and surprisingly intrepid actress, who turned 70 on 14 May, couldn't be less like steely Joyce if she tried…
How does Joyce compare to other roles you've played?
"Well, there's no romantic involvement for her and that's a relief! She represents the old bastion of Englishness and I don't think I have played that often.
"Like all interesting parts, she has been a challenge, though, because I wanted to try to get her point across without her becoming a caricature, so through the series we are mellowing her and finding some humour. She's a survivor, though, and what I like is that she is not impervious to change and we are seeing her come to terms with it."
Does Home Fires aim to show a different side to the WI?
"Yes, because most people have heard of the WI, but they don't know anything about its history and what it stands for and the war was a very interesting time for the organisation. Hopefully they also see how the WI helps people and it might ring bells today to show how we can still hold onto that idea of community."
Was it fun working with a predominantly female cast?
"Oh, I loved the fact that it was a series about women and that most of them are over 40 and a really varied group of actresses from different backgrounds. Women seem reluctant to crack jokes when there are a lot of men around so this was lovely, because it had a different energy and we had a lot of laughs."
You were born just after the conflict, but what were your family's wartime experiences like?
"Well, my father was in Burma. He had a bad accident and was given two years to live, but my mother nursed him and they were together until they were 90. He loved war films, but he never really spoke about the war and I wish I had talked to him about it. But when my parents passed away, I read a lot of letters that they had sent each other at that time and it was very moving."
You've done lot of period dramas over the years, but have you done much in the WWII era before?
"No, I don't think I have. Some periods are lovely to do because they're soft, feminine and flattering, but just before the war in rural England was not a glamorous time!
"So it was interesting getting the costume together and thinking, 'That looks so right,' but then, 'Do I want to look like that?!' But you have to bite the bullet. I'd like to do some more contemporary things now though."
Is there any role of which you're particularly proud?
"Oh, I've played some really interesting women, but what fascinates me is what captures the public's imagination. Reckless for some reason absolutely did and people still stop and talk to me about it and they even come up about Lillie [in which she played Lillie Langtry] which was about 100 years ago. I can't believe it!"
And you have worked with some wonderful people as well; who left you star-struck?
"Well, working with Elizabeth Taylor [in Cleopatra] was a learning curve that cured me of being in any way starstruck. She was an amazingly beautiful, funny, down-to-earth woman and mother and she took me under her wing. I saw her a lot domestically, and she made me see the normality of big stars; they're just like everybody else."
You've just turned 70, do you feel any different?
"I've never thought about age, you just keep moving on and working. Boundaries in terms of ageing are fuzzing and the most important thing is to be mobile and healthy and keep your mind open to the best of your ability.
"I am fortunate I am still offered interesting roles, although not all of the time, but every decade you change physically, mentally and in terms of what your expectations are, and with luck I'll keep abreast of that."
You've still got a spirit of adventure as well haven't you?
"I climbed Mount Kenya a couple of years ago with my daughter and I got so fit and I felt fantastic, but it was a hard climb. And I have just come back from Cuba where I booked myself onto a 26-hour bus ride from one side to the other. I had no iPad or camera because they were smashed and my suitcase was destroyed on my journey so I had no communication whatsoever, but it was wonderful."
You were keen to become a nun when you were younger, you must be quite glad you didn't now…
"Yeah, are you kidding?! I wouldn't have been flying around all over the world in the way that I am, but I was brought up a Catholic and practically everyone goes through a time when they wonder about it, but it all turned out differently."
And you've recently become a granny twice over haven't you?
"Yes, I've got two little babies in my life, a girl and a boy. They were born five weeks apart and they live just up the road from me so it's absolute heaven. It is just like riding a bike, you go right back and when you have got two, it's like having twins with all the juggling you have to do!"
Get the latest updates, reviews and unmissable series to watch and more!
Thank you for signing up to Whattowatch. You will receive a verification email shortly.
There was a problem. Please refresh the page and try again.