Hans Matheson loved fighting for his love and his life on ITV's Jericho (VIDEO)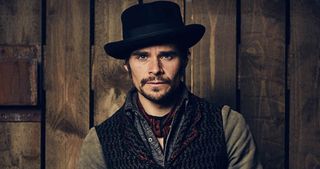 Hans Matheson, the star of ITV's new drama Jericho, says his character Johnny Jackson is nicknamed The Prince because of his good manners, but they soon disappear when there's a brawl to get involved in.
Hans plays Johnny, an itinerant navvy (railway construction labourer), who lands in the shanty town of Jericho and quickly casts his eye romantically towards Jessica Raine's character Annie Quaintain. She's initially less than impressed with him, but that may change during the eight-part series.
Hans says Jericho looks different form other period dramas and has a 'sort of wild west feel'.
But it's the story that's crucial, he told What's on TV. "At the end of the day it's about story and chemistry, and whether or not it's working between the actors and whether the story is gripping and I think Jericho is a gripping story. And it's not just about Johnny and Annie, there are so many different characters.
"There is the world of Jericho, and there are worlds within that world and you could go in any direction into different lives. Obviously in the first series we do focus on Annie and Johnny's journey, but it could go any way, there's potential there for very interesting storytelling."
Hans loved filming the brawls. "Rocky is one of my favourite films. I grew up watching it and boxing and fighting, that is really good fun, I really enjoyed doing it... Paul, the director, was really keen on making it quite comical, which I thought was brilliant.
"I love fight sequences that aren't just 'Hey, look at me, BOP!' It was quite comical, and Johnny is kind of fighting to get money for Annie so she can get away so he's doing it for a really good cause and he's really enjoyng himself. He loves it."
Jericho premieres on Thursday, January 7 on ITV.
Watch the full interview with Hans Matheson, above."]
Get the latest updates, reviews and unmissable series to watch and more!
Thank you for signing up to Whattowatch. You will receive a verification email shortly.
There was a problem. Please refresh the page and try again.