Hayley Atwell: 'I play a monster in The Long Song'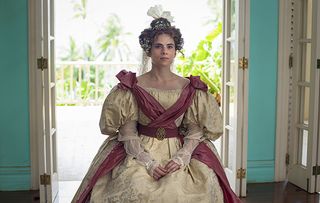 (Image credit: Heyday Television/Carlos Rodrigu)
The Agent Carter actress opens up on her role as a villainous aristocrat in this BBC period drama about the last days of slavery...
Hayley Atwell has played some superb leading ladies during her career, from Margaret Schlegel in Howards End to Peggy Carter in the Marvel Universe, but now she's taking on the role of a villainous mistress who'll leave viewers repulsed.
The London-born actress plays Caroline Mortimer in this three-part period drama set in Jamaica during the 1830s, in what would be the final days of slavery, and it's a role she was desperate for…
"Caroline's a monster and that's why I wanted to play her," says Hayley.
"I've never had the opportunity to play a character like this. She's absolutely heinous, so it was a challenge to find some psychological truth and pathos in her. It's a challenge I thought I'd probably fail, but I wanted to try anyway!"
Thankfully the tale is not told through Caroline's eyes, but from the perspective of her lady's maid, a spirited slave named July (Tamara Lawrance, Charles III) who tolerates her mistress's tantrums in return for status on her estate.
Yet when a slave rebellion breaks out on the island, a heart-wrenching incident turns July's world upside down and leaves her questioning her loyalties.
What's On TV caught up with Hayley Atwell and Tamara Lawrance to find out about more about the colonial drama, which runs over three nights next week and also stars Sir Lenny Henry and Jack Lowden...
WOTV: What can you tell us about Caroline and July?
Hayley Atwell: "Caroline is the sister of a plantation owner who's come out to Jamaica from London and expected it to be this idyllic paradise, but she's had a bit of an awakening.
"She's cruel and selfish, but she's also ridiculous and in many ways she's almost a panto villain. It was a liberating role to play though, because there was no pressure to be pretty or sexy, I got to play a proper character."
Tamara: "July is fascinating. She's really subversive and in many ways I had to debunk the myth of what we think of as a slave, because while she's trying to survive in a hard world, she's not encumbered or hard done by, there's a lightness to her.
"She's not afraid of Caroline, although sometimes she has to pretend to be. July is humbled by trauma in the opening episode, but when Robert arrives things change and we see an interesting triangle develop between the three of them…"
https://youtu.be/hxCUvC7BAzU
WOTV: Does the subject matter still feel relevant now?
Hayley: "It's about a culture and a place that's on the cusp of change and what that feels like for people on both sides of the divide. Things are finally catching up with people who've enslaved a race for so long. But we've seen with the Windrush Scandal, the debate is still just as important today. It's still a tale for our time."
WOTV: How much did you know about the Christmas Rebellion of 1831?
Tamara: "My mum told me all about Samuel Sharp, who led the rising, when I was a kid, but I didn't realise what it meant to be a national hero until I started doing this job. It's helped me be proud of that history.
"When I got the part my mum saw the trailer she left me a voicemail and I could tell she was a bit shaky and emotional. She's been asking me when it's coming on ever since and I know she'll either love it or tell me my accent is terrible!"
WOTV: Did you enjoy filming in the Dominican Republic, which stood in for Jamaica, for the series?
Tamara: "It was very hot, but also very beautiful, with amazing scenery and beautiful sunsets. It's mad to think the cane fields that were there hundreds of years ago are still there. I found that quite haunting in a weird way."
Hayley: "There were lots of locals who helped us with the shoot and they were amazing, but one day we found an enormous blue crab with one large claw in the cane and they told us it was a 'Cane Crab'. We were a bit scared until we found out they'd been winding us up!"
WOTV: What was it like working with Sir Lenny Henry?
Hayley: "It was brilliant, he's a great man and a fine actor. It was quite weird actually because in one scene I had to slap him and just before we did it I told him that he's one of my heroes and I watched his shows as a kid. He laughed and said: "Don't tell me that now!""
WOTV - Hayley, we loved you as Peggy Carter in the Marvel Universe and there's a campaign for her to come back!
Hayley: "Ah that's really nice! I get a bit of it, I catch wind of it. There's lots of good will for her which is lovely. They will have wrapped on the fourth one recently and that's kind of the end of an era for that part of the franchise.. a real gift is that to have any kind of character follow you around, as she does, it's great if it's a character like her, because its not someone that in 20 years time I might not be so fond of.
"She's not over sexualized. She's quite wholesome and intelligent and dignified. Lots of men and women have latched on to her in a really positive way. She a positive contribution to that world, which is a relief."
The Long Song begins next Tuesday and continues over the following two nights on BBC1.
Get the What to Watch Newsletter
The latest updates, reviews and unmissable series to watch and more!
Feature writer for TV Times, What's On TV, TV & Satellite Week and whattowatch.com
Sean has been writing about all things telly for over 10 years and in that time he's been lucky enough to interview stars like Ian McKellen, Tom Hardy and Kate Winslet. His favourite shows are The Great British Bake-Off, People Just Do Nothing and Succession and in his spare time he enjoys drinking tea, doing crosswords and watching football.