Sheree Murphy 'jumped to do Yes Chef when the call came'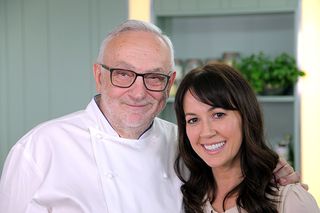 (Image credit: BBC/ITV Studios/Steve Green)
Sheree Murphy proved herself to be pretty nifty in the kitchen on Celebrity MasterChef last year... And now she's presenting a new cookery challenge show Yes Chef
But Sheree Murphy's relieved to be presenting (not cooking) BBC1's latest cookery contest, Yes Chef (daytime, Mon-Fri) - especially as its judge is one of the world's culinary greats, three-starred Michelin chef Pierre Koffman.
Are you looking forward to presenting Yes Chef? Sheree: "It's a dream come true, I keep pinching myself. People have been trying to get Pierre on TV for a very long time so it's an honour he chose to do Yes Chef.
"It's so funny; all week we have top chefs putting home cooks through their paces – grown men and women with their own restaurants and tons of awards to their name – and then Pierre rocks up on a Friday and all the chefs turn into school kids!
"Pierre has this huge presence. One chef even went, 'It's like God entering the room!' They just want to impress him. He's The Boss, The Master!"
What does it feel like to be so revered, Pierre? "Ha, what can I say? I'm a nice person, always have been. Even if I was called 'The Bear' in the kitchen when I was younger!'" Sheree: 'They meant, "Teddy bear"' Pierre: "Seriously, 20 years ago when chefs started doing TV I thought it wouldn't last. Why would people want to watch a programme where they couldn't taste the food? I thought it was stupid! I was completely wrong! People enjoy watching food shows and enjoyment is the important thing.
"You cannot change your life – what's done is done – but if I'd have met a team like Sheree and the team I worked with on Yes Chef, I'd have done more TV in my life."
Were you looking to do a cookery show, Sheree? "No. It all came about because I did Celebrity MasterChef last summer [Sheree was knocked out in the semi-finals]. I said I loved cookery shows so the call came asking me to do Yes Chef and I jumped at it. To work with Pierre and Britain's finest chefs is amazing. I did my homework and felt intimidated before we met but they're all so down-to-earth. And fun! We laugh a lot on this show."
So what do the contestants have to do? "Each day four chefs put four home cooks through culinary challenges – such as filleting a fish or making the perfect tartare sauce - choosing the best amateur to become their partner. All four chefs and their partners then go head to head in the ultimate pro-am showdown in Friday's final."
Sounds intense! "It is and it's interesting to see the dynamics change on Fridays because of the respect everyone has for Pierre. What's lovely about Pierre is he's caring and goes around giving the home cooks tips and suggestions. The amateurs are in heaven – to learn from the best is amazing."
Do you cook with your children [Taylor, 15, Ruby, 13, Matilda, 8 and Dolly, 4]? "Oh yes, we all sit down as a family to watch cookery shows like MasterChef and Bake Off – we're all mad on baking."
Ooh, so do you fancy your chances on Celebrity Bake Off one day? "Of course - now I'm a dab hand in the kitchen again!"
Do you prefer presenting to acting? "I love both. I trained as an actress and wouldn't rule acting out. I was in Neighbours whilst we lived in Australia; kissing Paul Robinson, whom I'd grown up watching, was surreal! I've done a hat-trick of soaps now – Emmerdale, Hollyoaks and Neighbours – just EastEnders and Coronation Street to go! I kind of fell into presenting and I'm super-happy to be doing Yes Chef. As are my kids - they finally think I'm cool!"
Interview by Rebecca Fletcher
Get the What to Watch Newsletter
The latest updates, reviews and unmissable series to watch and more!