James McAvoy joins the cast of BBC's His Dark Materials adaptation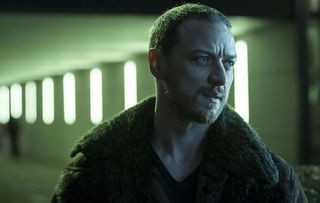 Filming is now underway on the long-awaited TV version of author Phillip Pullman's best-selling His Dark Materials books.
Phillip Pullman's epic His Dark Materials trilogy of fantasy books, Northern Lights, The Subtle Knife and The Amber Spyglass is finally coming to TV, with famous faces including The X Men's James McAvoy and The Affair's Ruth Wilson among the cast.
The books, which were first published between 1995 to 2000, have previously been adapted into a radio play, theatre production and big screen flick, The Golden Compass starring Nicole Kidman, Daniel Craig and Sir Ian McKellen. But now, after a long wait, the BBC TV version is finally in production, filming in Cardiff.
The story follows the adventures of a girl called Lyra living at Jordan College in Oxford at the request of her uncle, Lord Asriel (James McAvoy). But when Lyra sets off on an adventure from Oxford to London, she meets such fascinating characters along the way as the glamorous Mrs Coulter (Ruth Wilson) and eventually finds herself exploring strange, new worlds...
The original His Dark Materials books have been published in more than 40 languages and have sold around 18 million copies around the world. worldwide close to 18 million copies.
Philip Pullman says: "I'm delighted that the production is under way, and I'm looking forward immensely to seeing how it looks. Bad Wolf has assembled a wonderful cast and I'm sure every HDM reader is as keen as I am to see it all coming together."
His Dark Materials will begin on BBC 1 at a later date to be announced
Get the latest updates, reviews and unmissable series to watch and more!
Thank you for signing up to Whattowatch. You will receive a verification email shortly.
There was a problem. Please refresh the page and try again.