Jamestown's Max Beesley says Henry is 'basically a good man'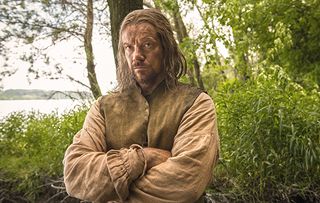 Max Beesley stars in the period drama Jamestown as a character you might ordinarily describe as a villain. But Max says he is a decent guy...
What's On TV gets the lowdown from Jamestown's Max Beesley about why he decided to join the show, the truth behind his character and how he dealt with some of the show's tough scenes.
The first series of Jamestown began back in May on Sky1. The period drama is set in 1619 Virginia. It follows the trials and tribulations of a young community who try to settle in the New World. When the first group of women arrive, a lot changes.
The eighth and final episode of the series screened on 23 June, but the series is out on DVD and Blu-ray. A second series has already been commissioned by Sky.
Max Beesley explains why he starred in Jamestown...
"Bill Gallagher has written some beautiful scripts. He achieves a fine balance between a documentary style and a great story. That's a very tricky dynamic, but he really pulls it off. As dark as they may be, the scripts are also wonderful."
There are some tough scenes in Jamestown, aren't there? "Yes, but it has to be unflinching. You have to be brave with what you depict. How dark you can go is a difficult decision; it's a fine line to tread. But there is a great balance in Jamestown between dark Jacobean action and wonderful love stories."
Would you describe your character, Henry, as a villain? "No. He's basically a good man. He's a decent fellow who is looking after his brothers. He has brought them over from England to try to make a better life for them. At the time, everyone believed that you could make a fortune in Virginia."
Has Henry been hardened by his time in Jamestown? "Yes. After 12 years there, he has lost his human nuances. He has witnessed some very tough things. The 'starving times' were quite frightening. One of his younger brothers died of starvation, and Henry nearly starved to death. To save his brothers, he lived on a diet of soil for a while. Bodies were being dug up and eaten, and one man killed his wife and child. They were very harsh times."
What have you enjoyed about playing this character? "It's a very tough job, but it's brilliant at the age of 45 to be able to do something where you're pushed to the limit. It's a gift of a role to be given at this stage of the game... I'm really satisfied with the work we've done. We have the very best cast, a lot of whom are good friends of mine. It's a great group, and that doesn't happen a lot on jobs."
How have you found wearing that extraordinary prosthetic burn on your face? "It makes the days very long. I'm only aware of it at 5am when the cold glue is going on. But once you get into it, it's great. It really adds to the overall feel."
Get the What to Watch Newsletter
The latest updates, reviews and unmissable series to watch and more!