Troy star Jonas Armstrong on getting super fit to play a king: 'By the end I just wanted to smash up the gym!'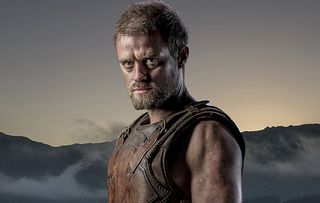 (Image credit: BBC)
Former Robin Hood star Jonas Armstrong stars in new BBC1 eight-part epic Troy: Fall of a City…
Ex Robin Hood star Jonas Armstrong spoke to What's On TV to reveal what it's like to be back on television playing Menelaus, King of Sparta, in BBC1's epic new saga Troy: Fall of a City…
WOTV: The role of King Menelaus is very physical. Did you have to get into shape?
Jonas Armstrong: "Yes there were a lot of boring hours spent in the gym! But there's an idea of how a king should look and he has to be able to handle himself and inspire his men in battle, so it was necessary. But by the end I just wanted to smash up the gym!"
WOTV: He's a man out for revenge isn't he?
Jonas Armstrong: "Yes he's completely taken over by it. He invited Paris to come to Sparta to set up a dynastic marriage with his daughter and then his wife, Helen, ends up running away with him. He's completely enraged by it and obsessed with getting her back at all costs. So the war he launches is about pride more than anything."
WOTV: Did you identify with any aspects of his character?
Jonas Armstrong: "I think most people might have been hurt in some way during a relationship, I know I have, and so that's something I drew upon. I just thought back to how was my brain operating at the time and the lengths you'd go to for revenge."
WOTV: Have you ever played royalty before?
Jonas Armstrong: "No I haven't. But it's only at the beginning that you see Menelaus in the traditional role of king. Once Helen has gone then his character takes a very different turn and you see him become a soldier and a warrior. There's also a completely different attire – the royal cloth is replaced by the brown leather of battle."
WOTV: Later in the series, there'll be an epic sword fight scene between Paris, played by Louis Hunter, and Menelaus. How did that go?
Jonas Armstrong: "It was really enjoyable. It took almost two and a half days to film, we were on set at 7am and we got a few little cuts but it was good fun – you don't get to do that every day at work! Louis picked up the fight choreography so much quicker than me, but we both worked hard and it's going to look great."
WOTV: What was is like filming in South Africa?
Jonas Armstrong: "Amazing! The sunsets in South Africa are something I've never seen before. I think that's one of the reasons they talked about filming Troy in South Africa for the sunrises and the sunsets. So much is shot with that kind of light. I also had the chance to get into a cage to see great white sharks. They came pretty close."
Troy: Fall of a City begins on Saturday February 17th on BBC1
Get the latest updates, reviews and unmissable series to watch and more!
Thank you for signing up to Whattowatch. You will receive a verification email shortly.
There was a problem. Please refresh the page and try again.