Julia McKenzie: 'I wore thermals and I still froze!'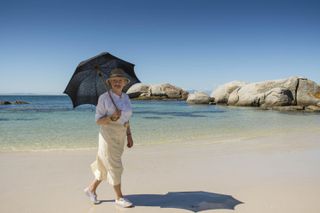 As ITV's Marple is filmed overseas for the first time, leading lady Julia McKenzie (opens in new tab) tells TV Times magazine (opens in new tab) about new costumes, guest stars and South Africa doubling for the Caribbean…
The new Marple is called A Caribbean Mystery, but you filmed the episode in South Africa…
"As a filming crew consists of 90 people, it would be impossible to take that many out to the Caribbean. So instead you go to somewhere like South Africa where they have ready-waiting film crews. We then only needed to fly out the director Charlie Palmer, first assistant director Paul Judges and my make-up artist Julie Kendrick."
Had you ever visited the country before?
"I've been to Kenya before, but this was my first time in Cape Town. We'd such a rotten summer here I thought: 'Fantastic – sun, South Africa'. When I arrived, it was gorgeous weather so on the first day, thinking I might not get another chance, I went up Table Mountain. I'm a bit of a coward about heights and when I was waiting I thought, 'I'm not sure I can do this'. But I got in the cable car and it wasn't scary at all. Emotionally, it was fantastic, I could see what felt like a thousand miles away."
Did you have great weather throughout?
"The day after Table Mountain, the rain and cold started. In five and a half weeks we had just three days of sunshine! We have 'weather cover', which means if the weather isn't good for a particular scene, then it's put back in the schedule and you play another. These scenes went back so far, it got to the last three days and, thank God, the sun came out. It was bad, everyone kept saying: 'It's never been like this' – we just went out a little bit too early I think. Those poor girls in those strapless Fifties frocks, I had a couple of thermals on under my dress and I was still freezing!"
We notice that you have had to make a few wardrobe adjustments, too!
"All I have new costume-wise for this episode is a skirt and belt plus a pair of plimsolls and a hat that Miss Marple might have bought on the beach there. The rest are all blouses that you may never have seen because Marple always wears a jacket over them and her best blue dress. This is to keep it believable as back then, people didn't have many clothes or send them to dry cleaners – they sponged things down and pressed them."
Which guest stars are appearing in the episode?
"The guest cast includes Robert Webb, Hermione Norris, Warren Brown and Myanna Buring and lovely Charity Wakefield in not an easy part. We're very lucky, everybody seems to want to do a Marple. It is a fun thing to do. I was amazed that Sir Antony Sher was playing Jason Rafiel. I took him for a drink when we first met and said: 'I feel awfully nervous about you coming because you're a posh actor!' But he was very sweet and supportive."
What are your favourite parts to film?
"I love scenes where there is a big group of us – because I don't have to speak all the time! One of things I love about being in our business is the camaraderie. It's very easy for people to say actors are jealous, but I've never found that, I've always found them very loveable as we know we are all children at heart. Mind you, we didn't have time for much fun on this episode as the days were long. On Marple, we normally do 14-hour days including travel, but here we were doing nightshoots until 5am, with travel on top."
Did you see much more of South Africa before you left?
"On the last three days when we had sun, we finally hit Boulders Beach, an hour's drive from Cape Town. The formation of the land with mountains coming into the sea is lovely. I'd never been on white sand before – it was amazing. I got spots in my eyes because of the brilliance of the sun on the sand, I hadn't experienced that before but I could see the charm."
Was it hard wrapping up filming?
"My last day on set was very sad. You get close to people quickly under these circumstances. I love to work away in different countries, as it's the best way to see places, you become part of the nuts and bolts of a place rather than a tourist looking in. I'd like to go back to South Africa one day, a tour of Durban, Johannesburg and a safari would be very nice. What I missed most whilst I away was my old man [Julia's husband is actor/director Jerry Harte]. Once I was back in the UK, I had a three-week break and then started filming another Marple mystery, Greenshaw's Folly, which you'll see next week…"
Get the latest updates, reviews and unmissable series to watch and more!
Thank you for signing up to Whattowatch. You will receive a verification email shortly.
There was a problem. Please refresh the page and try again.