'My baby will always come first': Lucy-Jo Hudson on why she could relate to her role in the new series of Moving On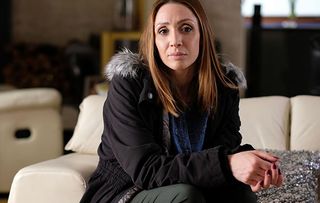 (Image credit: BBC/LA Productions/Tony Blake)
Former Corrie star Lucy-Jo Hudson plays a devoted single mum at risk of losing her daughter in the new series of Moving On
Lucy-Jo Hudson is one of many famous faces starring in the standalone Moving On dramas being shown throughout next week.
Here the former Corrie and Wild at Heart star, who announced her separation from her husband and fellow Corrie actor Alan Halsall last year, talks about her new role playing a single mum whose world is turned upside down when she makes contact with an ex, life on Hollyoaks and how her own daughter Sienna-Rae, is the centre of her world...
What's On TV talks to Lucy-Jo Hudson
What's On TV: Tell us about Karina and what she's like?
Lucy-Jo Hudson: "When I got the script and read it, I could relate to her quite a bit, obviously with my situation now. She's a single mum, her life is pretty much her daughter. She's a very strong woman, very independent and she's a brilliant mum. Her whole life is her nine-year- old daughter."
WOTV: Izzy has never met her father but she starts asking questions about him doesn't she?
LJH: "Yes, now she's at school and growing up she's questioning, 'What happened to my daddy, Where is he?' Izzy was the result of a one-night stand. As far as Karina's concerned her daughter has got a mum and that's all she needs but kids do need a mum and a dad. The more Izzy asks about her father, the more Karina thinks maybe they should track him down and give Izzy the chance to form some kind of relationship with her father."
WOTV: What is she expecting to happen when she makes contact with Izzy's father Greg?
LJH: "I think she initially thinks if he and Isabelle meet up and it goes well perhaps she would be able to see him for a weekend here and there and that would be it, but when she sets the wheels in motion it completely turns her world upside down because she really doesn't expect what unfolds. When she turns up at Greg's house, her jaw drops because it's clear he is very, very rich indeed. Karina and Isabelle live hand to mouth.
"She works every day in the local fish and chip shop with her best mate Stuart. They don't have money but they're happy, they're rich with love, that's what's so important. Suddenly they go and find this father who is a millionaire who likes to show off his money. His wife has got the flashy Range Rover and all the bling on her fingers, she goes to yoga, she's glamorous, she's the complete opposite to Karina."
WOTV: What would you say is the main theme of the drama?
LJH: "That a mum will do anything for her child. I think so many parents will be able to relate to this, when you have a kid, your life completely changes, mine did and my priorities changed. Although I love working and I need to work, I also know that my baby comes first. People will see that Karina has given everything up for her daughter and suddenly her world comes crashing down because she's trying to do what's best for her daughter but it backfires on her and turns sour. It's very relatable."
WOTV: What was it like working in the fish and chip shop?
LJH: "I love a chippy on a Friday night, me and my little girl enjoy that so it was great getting behind the counter. The people that owned the shop were brilliant, they were giving all the crew free chips at lunch and they showed Harry, who plays Stuart, and I, how to roll up the paper and make it look natural."
WOTV: Trudie Goodwin (ex Emmerdale and The Bill) is also in it, isn't she?
LJH: "Yes she plays a lawyer, she is lovely, we only had a couple of scenes together but she's brilliant and Melanie Kilburn played Stuart's mum, Mrs Barker. Melanie used to be in Corrie, (as Fred Elliot's wife Eve). She was mega."
WOTV: You said you related a lot to Karina and life as a single mum. How are you managing since your separation from Alan (Halsall) and looking after Sienna-Rae?
LJH: "When it comes to looking after Sienna it's split 50:50 and that's exactly how we want it because it's so important for her to have us both involved. She's a happy, happy kid, she really is and we both put her first and that's all we want. Alan and I both still live near eachother."
WOTV: What kind of stuff is Sienna-Rae into? Does she like acting and dancing?
LJH: "She started school in September and she loves singing and performing. She does little impressions, she's very funny and makes me laugh so much. I think performing is in her genes. If she wants to perform in the future that's brilliant, if she wants to do something completely different that's also brilliant. She absolutely loves her animals and going to farms. She might want to be a vet! We haven't got any pets at home but she asked for a real monkey at Christmas. Unfortunately I couldn't quite deliver that but she did get a very real looking toy monkey, which she absolutely loves."
WOTV: How is Hollyoaks going? How are you enjoying playing Donna-Marie Quinn?
LJH: "I'm loving it, I've never played someone like Donna-Marie. I love looking so skanky because everyone is so glamorous on that show and then I'm the complete opposite. I have to wear a a retainer on my teeth to give her that stained-teeth look. I look horrific. Pale face, greasy hair, skanky teeth. I have to remember to take my make up off before I leave because I look awful. You can picture me turning up at the school gates and all the mums going,'Eugh'."
WOTV: Things are going to get messy with Mac aren't they?
LJH: "Oh yes, she's going to regret ever getting involved with him. He is bad through and through and although she's been a bad girl at the end of the day she does have a heart, she loves her kids but she's completely messed up, she's come from a a bad background and upbringing, all she wants is her family and a roof over her head and Mac provides that but at what cost. He completely changes her world for the worse and preys on all her vulnerabilities. Donna-Marie seems all gob, face and "not bothered' but actually we're going to see Mac destroy her, he's out to break her."
WOTV: Everyone says it's a lovely cast there...
LJH: "Yes, because you work such long hours, it's like Moving On, the crew and the cast become your little family at the time, the people are brilliant, everyone pulls together and gets the job done. It's a lovely team."
WOTV: Have you got anything else in the pipeline for 2019?
LJH: "At the minute I'm still under contract with Hollyoaks so that'll be it for most of the year. It would be nice to have a little break later in the year but at the minute it's Hollyoaks and being a mum which is great. The balance has been pretty good."
WOTV: Do you still love dancing? You did the TV show Dance Dance Dance in 2017...
LJH: "I do but I feel after doing that show, I kind of got it out of my system. I used to dance as a kid and up to late teens, it was something I was always so passionate about. Doing Dance Dance Dance after 20 years of not really dancing was me seeing if I could still do it as grown up but my god it was hard work! It made me realise as much as I love dancing, I love my acting and doing what I'm doing. I'm happy sticking to what I know! Stick to dramas."
WOTV: How do you stay fit and healthy and look after yourself?
LJH: "Normally I do weight-training but I've found the last year, so much has happened with work and Sienna, and life generally I've not really had a chance to get to the gym and to be fair, I'm always on my feet, either working or out in the park playing with Sienna, so as long as you get your eating right, you're almost there. I love my gin and tonics, I love my chocolate, but I also like to eat well, veggies, rice, yogurts and porridge. I will get back in the gym at some point but I just haven't had the time! It's balancing everything."
WOTV: Which Corrie mates do you still keep up with?
LJH: "Samia and Jane they are my girls. I worked a long time at Corrie so we still see eachother and now I'm working with Nikki Sanderson at Hollyoaks. We were both on Corrie at the same time too, so that's been lovely seeing Nikki in the green room, we've had a right good catch-up."
WOTV: What do you like watching on TV yourself?
LJH: "I had the Voice on the other night. I haven't seen that for years and I was blown away by some of the talent and I love the judges. Jennifer Hudson is awesome! I also tend to watch a lot of Gold – The Royle Family is one of my all time favourite series, it's so sad that Caroline Aherne isn't around anymore. I love all the old school stuff, like Only Fools and Horses."
Moving On begins on BBC1 on Monday Feb 4th at 2.15 pm and continues throughout the week. Lucy-Jo Hudson stars in Wednesday's episode
Get the latest updates, reviews and unmissable series to watch and more!
Thank you for signing up to Whattowatch. You will receive a verification email shortly.
There was a problem. Please refresh the page and try again.