Team GB star Nicola Adams: 'It's the thought of winning double Olympic gold that keeps me going!'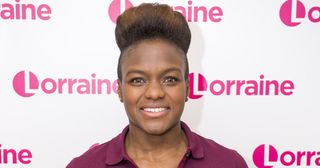 (Image credit: Ken McKay/ITV/REX/Shutterstock)
Boxer Nicola Adams tells TV Times how winning a Olympic Gold changed her life and her dreams for Rio 2016.
When Nicola Adams first started sparring at the age of 13, women's boxing was not the most popular of sports. Nicola struggled to find anyone who would agree to coach a girl, could barely afford the bus fare to the gym and had seemingly no hope of seeing her sport accepted by the Olympics.
Fast forward to 2012 and a euphoric Nicola Adams beat the odds to become the first female boxer to ever win a gold medal at the Games, as she triumphed in front of a home crowd.
This year Nicola, 33 is determined to put in a repeat performance. Currently the reigning World, European, Commonwealth and Olympic champion, she now wants to be the first British woman ever to successfully defend an Olympic title. Here she tells TV Times why the second gold is so important and how life has changed…
Nicola, are you ready to defend your Olympic title? "Yes, I know what to expect from the Games this time, I'm a lot more experienced and I feel like more of an all-round athlete. Gold in Rio is just as important as winning the first time, in fact it's the thought of winning a double gold that keeps me going. Obviously we've never had a double Olympic champion in women's boxing. I'd love to be able to make history again and do something nobody else has done before."
You inspired a new generation of female boxers, who will now challenge you for gold… "It feels really good to put women's boxing on the map, and to be honest I think it's good to have healthy competition. It's great to inspire people, and so nice to see people being as passionate about women's boxing as I am."
How intense is your training in the run-up to Rio? "We're training as if it's any other tournament, and I treat it like a job. I always start with a run at 7am, and then a sausage – it's the breakfast of champions! – then weights and conditioning, with boxing sessions in the evenings. This year's world championships were really good for me, because I know where I stand with all the other boxers and what I need to work on for Rio."
How has life changed since London 2012? "It's also a lot easier to get funding now – back at the start it was really hard and my mum used to pay for everything. My family is over the moon with what I've achieved and it's nice to be able to give back to them. I bought my brother Kurtis a house and I would have done the same for my mum, but she didn't want to move! I took her shopping instead.
"I'm still the same person really, I just get to go to some cool events, like music award ceremonies. I'm quite down-to-earth, I keep my gold medal in a safe."
Do you still see any of Britain's other 2012 heroes? "I sometimes see Jess [Jessica Ennis-Hill] because we train at the same sports centre and it's really nice because we're in a similar position and experiencing the same things. It will be nice to catch up with all the other athletes when we get to the Olympic village."
Sadly your hero, Muhammad Ali, died this year. Are you expecting any tributes at the Olympics? "I don't know, but I think it would be nice if the boxing community did something special. I already do the Ali shuffle, so that's my little tribute to him every time I box."
Are you planning anything special for after the Games? "I like a good TGI Fridays after I've boxed. I actually had to go to Nando's after London 2012 though, I couldn't find a TGIs anywhere!"
Watch Nicola Adams compete when the Olympic women's boxing begins on Sunday, August 14.
Get the latest updates, reviews and unmissable series to watch and more!
Thank you for signing up to Whattowatch. You will receive a verification email shortly.
There was a problem. Please refresh the page and try again.