Oscar-winning Thought for the Day from American Beauty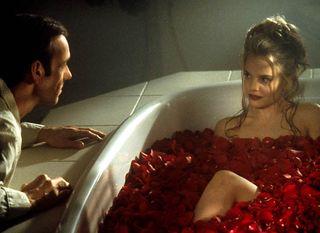 "It was one of those days when it's a minute away from snowing and there's this electricity in the air, you can almost hear it. Right? And this bag was just dancing with me. Like a little kid begging me to play with it. For fifteen minutes. That's the day I realised that there was this entire life behind things, and this incredibly benevolent force that wanted me to know there was no reason to be afraid, ever. Video's a poor excuse, I know. But it helps me remember... I need to remember... Sometimes there's so much beauty in the world, I feel like I can't take it, and my heart is just going to cave in."
American Beauty (1999) (opens in new tab)
This movie was nominated for eight Oscars in 2000 and walked away with five, including Best Picture and Best Director (Sam Mendes (opens in new tab)).
This year's Oscars ceremony doesn't have an obvious front runner. In fact, it's probably one of the most difficult years ever for predicting winners.
Here's what Movie Talk thinks about who will win, who should win and who got forgotten altogether.
This year's ceremony, presented by comedian filmmaker Seth Macfarlane (opens in new tab), kicks off tonight at 1.30am on Sky Movies Oscars.
Get the latest updates, reviews and unmissable series to watch and more!
Thank you for signing up to Whattowatch. You will receive a verification email shortly.
There was a problem. Please refresh the page and try again.