Poldark star Tom York: I got to wrestle with Aidan Turner!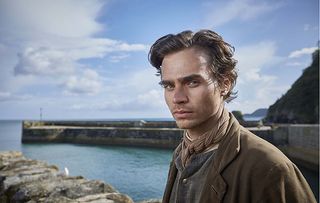 (Image credit: BBC/Mammoth Screen/Mike Hogan)
Poldark's Tom York on how his character, Sam is, literally, wrestling for Emma's affections…
Fans of Poldark are used to witnessing plenty of heart-stopping on-off love affairs, with Ross and Elizabeth, Ross and Demelza, and Demelza and Hugh Armitage among the most memorable. But one that's been steadily brewing is the unlikely romance between Demelza's eldest brother, devout Methodist Sam Carne (played by Tom York), and flirty local lass Emma Tregirls, which is about to take a new turn…
"It's an interesting storyline for Sam," Tom York, who plays him, tells TV Times. "She represents the things he keeps tightly locked down in himself, like excess, fun and frivolity, and he can't help but fall for that."
Sam's not really known for his brawn, so it's a brave move to go up against George Warleggan's hefty henchman Tom Harry in a Cornish wrestling match this week. But when Emma, played by Ciara Charteris, offers herself as the prize, Sam can't resist risking serious injury to win her heart.
"It's all for the love of Emma, who has promised to attend church with him if he wins," reveals Tom. "Sam agrees to fight in the hope of finally providing her with the chance to fall in love with Methodism!"
Here, Tom York tells us what it was like to wrestle not only Turlough Convery, who plays Tom Harry, but also Aidan Turner, aka Ross Poldark himself…
What were the Cornish wrestling scenes like to film?
Tom York: "I'm now a qualified Cornish wrestler, which is very exciting! Turlough is a big guy and he's got stamina. I got to wrestle Aidan, too, which is a huge feat of strength on his part! We had a great time. Those are the really fun things you get to do as an actor – turning up for work and then wrestling each other or filming in the caves by candlelight for the mining scenes. We're lucky to be able to do things like that."
Were there any injuries?
TY: "No, we were very safe. It's really carefully choreographed, but we also got to wear Cornish wrestling jackets, which were the height of fashion at the time. You grab on to each other's jacket in order to pin your opponent on the ground. It was exhausting though, so when you see us panting and sweating there's no acting and very little make-up!"
Obviously, you can't tell us who wins the fight, but is there any hope of romance between Sam and Emma this series?TY:
TY: "I can't say too much, but Sam's love for Emma is so powerful that I don't think he's felt anything like it before. Sam's dream would be to start a family, so if he could find a way of making it work with her, then his life would be sorted. Obviously in the Poldark world that's a long way off, but he wants to fight for it against all the odds."
Emma's not religious, so does Sam's faith stand in their way?
TY: "It's a source of tension. But other events allow him to soften his views this series. He needs his Methodist structure because of the difficulties he's had in his past, but he's more tolerant and accepting. We see him working down the mine more and being a bit of a hero, but you'll have to wait and see about that…"
What sort of reaction do you get from Poldark fans?
"I go down to Cornwall before filming starts just to get away and have some time and space on my own and go through work, but that's when I get recognised. It's lovely because the fans of Poldark are just brilliant, although everyone's a bit wary of Sam – they don't want to be preached at!"
Poldark continues on BBC1.
Get the What to Watch Newsletter
The latest updates, reviews and unmissable series to watch and more!