13 Things You Need to Know about Poldark's Aidan Turner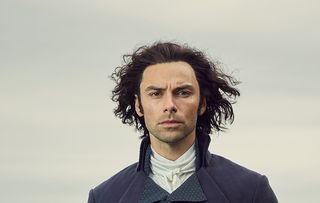 (Image credit: Mammoth Screen/BBC)
Aidan Turner has earned his place as a heart-throb with viewers playing Ross Poldark, but how much do you know about the Irish actor?
With the new series of Poldark just around the corner, here are 13 things about its leading man, Aidan Turner, you may not know...
1. DUBLIN BORN AND BRED
Aidan Turner was born in Dublin on 19 June 1983. His mum, Eileen, was an accountant and his dad, Pat, is an electrician. He has an older brother called Colin, who is a taxman!
2. DANCING KING!
The Poldark star took up Ballroom and Latin American dancing at the age of six and represented his country for 10 years. He says he hasn't been asked to do Strictly and if he was, he wouldn't do it!
3. JOBBING ACTOR
He briefly worked as an apprentice electrician, alongside his father. Then a job as a theatre usher sparked his interest in acting and he attended Dublin's Gaiety School of Acting (above).
4. HORSING AROUND
Aidan is close to his Poldark co-stars, in particular Seamus the horse, who he rides across the Cornish cliffs in the BBC1 saga. "I talk to him all the time," says Aidan. "I understand how he works and he understands how I work."
5. WEST END DEBUT
Aidan stars in The Lieutenant of Inishmore as a cat-loving terrorist deemed to violent to be a member of the IRA. It's a satire! Where: Noel Coward Theatre, London, from 23rd June to 8th September.
6. DIGGING THE WIG!
Before the second series of Poldark, Aidan had had his hair cut short for another role, so had to wear a wig when he return to pay Ross. The wig cost £2000 and had to be kept in a special wig oven overnight to keep it in pristine condition.
7. VAMPING IT UP
Aidan shot to fame in BBC3's supernatural drama Being Human, in which he played vampire John Mitchell from 2009 to 2011, with co-stars Russell Tovey and Lenora Crichlow. He also starred as Lord Byron in BBC2's Desperate Romantics.
8. HAPPY HOBBIT
The Irish actor has had success on the big screen, landing the part of dwarf Kili in Peter Jackson's Hobbit trilogy. The role won him the Empire Award for Best Male Newcomer for his performance in The Desolation of Smaug.
9. ART IN HIS HEART
To unwind, Aidan likes to paint, and has a studio in Dublin where he lets loose, getting creative with colour on big canvasses. "I started painting in New Zealand [while filming The Hobbit], I thought it would be fun to do. It makes me happy and chills me out."
10. MYSTERY MAN
Aidan impressed viewers in BBC1's adaptation of Agatha Christie's And Then There Were None at Christmas 2015, playing suave mercenary soldier Philip Lombard. The drama, like Poldark, was filmed in Cornwall.
"Standing at the side of a cliff in Cornwall I had to remind myself I wasn't Ross, it was bizarre!" said Aidan.
11. SOLDIERING ON
For this series of Poldark, he broke his hand while filming a scene firing muskets. But like a trouper, he carried on and completed the scene! "I knew something was wrong straight away," said Aidan. "But I had to finish the scene. For the next 30 seconds it felt like jelly."
12. PUPPY LOVE
The actor loves dogs, but he doesn't have the warmest of relationships with Garrick, Demelza's dog in Poldark. "I love dogs. I'm a dog person," he said. "He's a working dog and when he's on set he's not terribly affectionate. He doesn't want to know you unless you have a treat in your hand!"
13. BEING BOND
Aidan is one of the frontrunners, alongside Tom Hardy and Michael Fassbender, tipped to be the next James Bond, if Daniel Craig gives up the role. Can you picture Aidan in a tuxedo?
Poldark returns this summer!
Get the latest updates, reviews and unmissable series to watch and more!
Thank you for signing up to Whattowatch. You will receive a verification email shortly.
There was a problem. Please refresh the page and try again.