Professor Brian Cox reveals what 'amazed' him in his major new BBC series on the planets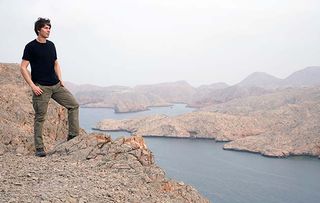 (Image credit: BBC Studios//Brian Cox/Katy Sava)
Jupiter could have destroyed the Earth!
Professor Brian Cox will tell the story of the planets in a "groundbreaking" new series for BBC2, which begin tonight at 9pm.
Using the latest planetary science research, The Planets will reveal the history of each world over five parts - opening this evening with a look at the planets closest to the Sun.
Each planet will be brought to life using the "most accurate and detailed imagery ever produced." The series will explain the tragic past of Mars, which was once a wonderful water world but is now a barren, cold desert world.
Talking about how The Planets will build on his Wonders... series, Brian said: "There have been lots of new space missions over the last 10 years, so we've learned loads more about the solar system since we made those series.
"We used to think our solar system was pretty standard with thousands others like it, but we've since discovered that isn't the case. There are unique factors which explain why our solar system formed the way it did over the last 4.6 billion years, which we've only just come to understand."
The hugely popular scientist will also explain how the latest science suggests that Jupiter caused chaos during the early solar system and could have destroyed the Earth!
"I was amazed by how complicated and dynamic the formation of the solar system was, in terms of geography. We've recently discovered the planets were moving around all over the place in the early years.
"The Grand Tack Model is a very new theory that suggests Jupiter spent millions of years destroying all sorts of space matter as it moved towards the sun, but luckily for us the gravity of Saturn stopped it before it could reach us!"
Plus, Brian, 51, will look at the mysterious planet of Neptune, the last major planet in the far reaches of the solar system.
The BBC promises this will be "an epic story" and that it is one still being told and discovered as we still don't know our planets as well as we thought we did.
The Planets presented by Brian Cox - whose previous series have included Wonders of the Universe and Forces on Nature - will air on BBC2 starting on Tuesday 28th May at 9pm.
Get the latest updates, reviews and unmissable series to watch and more!
Thank you for signing up to Whattowatch. You will receive a verification email shortly.
There was a problem. Please refresh the page and try again.