Robert Rinder: 'Who Do You Think You Are? changed my life'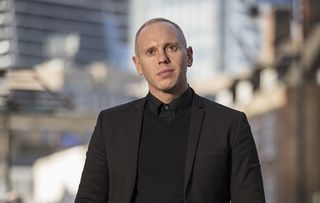 (Image credit: BBC/Wall to Wall/Stephen Perry)
Robert Rinder opens up about discovering dark secrets in his ancestry in Who Do You Think You Are?
Tough-talking Robert Rinder may be the uncompromising master of the courtroom in ITV's Judge Rinder but he demonstrates his softer side in next week's emotional episode of BBC One's Who Do You Think You Are?
The lawyer looks into his family tree and discovers the harrowing tale of his Polish-born grandfather Morris Malenicky who was the only member of his immediate family to survive the Holocaust.
Here, Robert Rinder tells TV Times about his remarkable Who Do You Think You Are? journey…
TV Times: Why did you want to take part in Who Do You Think You Are?
Robert Rinder: "So many of us are interested in understanding where we came from and I only had an outline that I wanted coloured in. But it's also important that we all understand more about the Holocaust."
TVT: Did you know much beforehand about your grandfather Morris's experiences during the Holocaust?
RR: "We spent a lot of time together but he never sat down to tell us what happened. But the Holocaust was an unforgettable shadow in the family as my grandfather would behave in eccentric and challenging ways because of what he'd been through."
TVT Did you learn more about Morris's lost family when you visited his home in Poland?
RR: "Yes, it was an amazing gift. They'd just been statistics before but I read details of how his siblings were good at school and that they loved performing and that breathed life into these young children for me."
TVT Morris was eventually sent to several concentration camps himself and you went to the site of one in Schlieben, Germany. Was that tough?
RR: "Yes, there was a biting cold and I imagined my grandfather there in ragged clothing. I met up with my grandfather's friend Ben who had been with him there. The most powerful moment was when Ben said to me, 'Let's walk out of here together'. That changed my life."
TVT What's next for you?
RR: "Lots of exciting things! I have some projects in the new year - perhaps a chat show, we don't know. There will also be lots more Judge Rinder which I love, love, love, love every day of! And of course some more Crime Stories, which people seem to enjoy."
TVT You turned 40 in May, was that scary?!
RR: "Well everybody thinks I'm much older! But I had a lovely old time - it was great. There was no big party but I tried to spend the whole month having a birthday and spending lots of good quality time with friends, it was wonderful. Sadly, there was no Strictly-style dancing, because the dances I like were from the 1930s and there aren't many places you can go for a cocktail and a quickstep!"
Who Do You Think You Are? continues on Monday 13th August at 9pm on BBC 1
Get the latest updates, reviews and unmissable series to watch and more!
Thank you for signing up to Whattowatch. You will receive a verification email shortly.
There was a problem. Please refresh the page and try again.