Ruth Wilson: Playing my own grandmother is my toughest role ever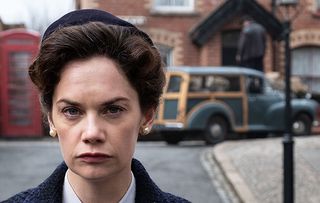 (Image credit: BBC/Snowed-In Productions/WP Fil)
Ruth Wilson reveals all about exploring her grandfather's bigamy in a powerful new drama Mrs Wilson
The complex lives of Ruth Wilson's paternal grandparents are being explored in BBC1's three-part drama Mrs Wilson.
Ruth, best known for Luther and The Affair, plays her own late grandmother Alison in the drama, which is based on Alison's memoirs and explores how she made the shocking discovery that her husband Alec (Game of Thrones' Iain Glen) was a bigamist.
Here, Ruth Wilson tells TV Times about portraying her own grandmother in Mrs Wilson…
TV Times: Why did you want to turn your grandparents' story into a drama?
Ruth Wilson: "I was amazed that this existed in our very ordinary family. My granny wrote a memoir and let us read the first part about 20 years ago. That covered her falling in love with Alec and finding out about his betrayal. When I told people they'd say, 'Wow, you should make that into a drama'"
TVT: Is it strange playing your own grandmother?
RW: "I had to get her hair right! But it's the toughest role I've done. It's personally very close and exhausting. I was overcome with how hard it must have been for her and giving birth to my own dad was weird!"
TVT: What reaction do we see Alison have to her discovery about Alec's bigamy?
RW: "It's horrific. She's broken because everything she thinks about her life is a lie and she is constantly overloaded with more bad information. But my granny was always on shifting sands about whether what Alec was saying was true. When she found out he was married to someone else, everything she'd doubted came to the fore."
TVT: We also see her delve into his work as a spy, were you intrigued by that?
RW: "Yes, what his role was in the secret service is still up for grabs because even after 70 years, the files are case sensitive and can't be released. So we don't know what he got up to and if these marriages were for work or for love. He remains a man of mystery. I wouldn't be surprised if more relatives appear after the show!"
TVT: How would your grandmother have felt about the drama?
RW: "We were close but Granny wasn't a warm, cuddly woman, she was reserved and not emotionally open but now I understand why. A lot had gone wrong in her life but she had this huge burning story inside her so I hope she'd be dead proud and happy I was doing it. She wanted it to be told."
Mrs Wilson airs on Tuesday 27 November on BBC1 at 9pm
Get the latest updates, reviews and unmissable series to watch and more!
Thank you for signing up to Whattowatch. You will receive a verification email shortly.
There was a problem. Please refresh the page and try again.