Ruth Wilson – BBC release dramatic new image of star as her own grandmother in her BBC1 drama, Mrs Wilson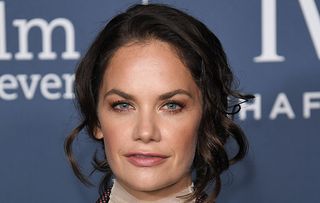 (Image credit: James Gourley/REX/Shutterstock)
Bodyguard actress Keeley Hawes also features in Mrs Wilson
The BBC has released a striking image of Ruth Wilson in her upcoming BBC1 drama Mrs Wilson, which is inspired by the life of her own grandmother.
Ruth, who's best know for her roles in The Affair and Luther, stars opposite Iain Glen in the three-part series, which promises to be one of the highlights of the autumn season.
"I'm so excited to bring to the small screen the extraordinary lives of my grandparents. Theirs is a profoundly moving story," she said.
Set between the 1940s and 1960s, it follows Alison Wilson (played by Ruth) who thinks she's happily married until her husband Alec (Iain Glen) dies and a mysterious woman arrives on her doorstep claiming to be the real Mrs Wilson.
As she tries to prove she's the true Mrs Wilson and that her husband's love for her was real, Alison finds herself drawn into a world of disturbing secrets...
Alexander Wilson lived an amazing life as a writer, spy and secret service officer who served in the First World War before moving to India to teach as a Professor of English literature, where he began writing spy novels.
The cast also includes Fiona Shaw, who'll reprise her role as spymaster Carolyn Masters in the second series of Killing Eve, and Bodyguard star Keeley Hawes.
Lucy Richer, Executive Producer for the BBC, says: "Anna Symon's scripts, based on the remarkable story of Ruth Wilson's grandparents, are full of twists and turns. It is a story of breath-taking secrets and love against the odds, and I can't wait to see it brought to life for BBC1 by such a fascinating cast, led by Ruth."
Mrs Wilson, which was shot in London and Northern Ireland, will be shown later this month.
Main Ruth Wilson pic: James Gourley/REX/Shutterstock
Get the latest updates, reviews and unmissable series to watch and more!
Thank you for signing up to Whattowatch. You will receive a verification email shortly.
There was a problem. Please refresh the page and try again.