Top Five | Film review - Chris Rock's fretful comedian finds trying to be taken seriously is no joke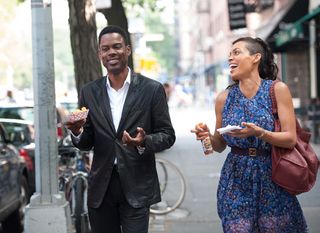 (Image credit: Ali Paige Goldstein)
Chris Rock gives the romantic comedy genre a playful and provocative spin as writer, director and star of the semi-autobiographical Top Five.
Here going by the name Andre Allen, he's a stand-up comedian turned Hollywood star who fears he has lost his funny bones since he stopped drinking. Having won fame and fortune wearing a furry suit as Hammy the Bear in a trilogy of lowbrow buddy-cop films, he now he wants to be taken seriously.
Sadly for him, both his fans and the critics are giving the thumbs down to the earnest historical drama he has just made about the Haitian Revolution. With days to go before his high-profile wedding in Los Angeles to reality-TV star Erica Long (Gabrielle Union), he is spending the day in Manhattan promoting his misbegotten movie and has grudgingly agreed to be accompanied by Rosario Dawson's alluring New York Times journalist, Chelsea Brown.
As the duo pass the day walking and talking – much like Jesse and Celine in Richard Linklater's Before… films, their flirtatious chemistry becomes increasingly apparent.
Unlike his screen alter-ego, Rock need have no fear of losing his ability to make people laugh. The jokes fly thick and fast on race, rap, sex, celebrity; you name it. And there are some hilarious flashbacks to Andre's heavy-drinking past, including an uproariously crude episode when a hotel-room tryst with two women turns into an unwelcome four-way when Cedric the Entertainer's larger-than-life promoter bursts in upon the scene.
It's clear that Rock is laying himself bare with Top Five's thinly disguised self-portrait. And he has much to say about what it means to be a successful black entertainer in the US today. What, though, is he telling us when he makes the only significant white character in the movie (Chelsea's sneak of a boyfriend) – discounting cameos from celebrity pals Adam Sandler and Jerry Seinfeld – the butt of a series of very dodgy homophobic jokes?
Certificate 15. Runtime 104 mins. Director Chris Rock. http://youtube.com/v/jejCmmawzLY
Get the latest updates, reviews and unmissable series to watch and more!
Thank you for signing up to Whattowatch. You will receive a verification email shortly.
There was a problem. Please refresh the page and try again.