Tut star Sir Ben Kingsley: 'I'm dead normal, really'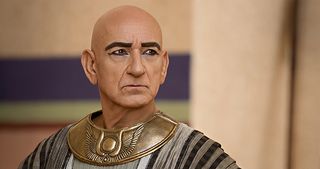 (Image credit: Jan Thijs)
Over six hours this weekend, Channel 5 is screening Tut (opens in new tab), the story of the legendary young Egyptian king Tutanhamun. Oscar-winning English actor Sir Ben Kingsley plays Ay, Tut's mentor. He talks about the series and his career...
How much did you know about ancient Egypt before you took on the role in Channel 5's Tut?
"I remember going to the British museum as a schoolboy and seeing a mummified body. I was part-horrified, part-thrilled by this ancient creature."
You're a very versatile actor, starring in sci-fis, biopics and even The Jungle Book. How do you prepare for your roles?
"I look for the archetype with which I can label my character."
What's my dramatic function in terms of serving the story?
"In Tut, it is to represent pure, unswerving ambition, so I think about how that can be translated into Ay's behavior with every single person he comes face to face with."
Tut is a rites-of passage tale in which the title character grows into his responsibilities, and the role of mentor is one of many masks worn by Ay. So who mentored you as you made your way in the world?
"My first mentor was an extraordinary female director working with me in theatre in education. She said: 'One day you are going to be a great classical actor.' And I didn't believe her."
Why did you decide to tread the boards?
"My motives for being a storyteller are pure, and I found a way to be me. Now I'm being me when I'm being an actor – it's a paradox, but it's true."
Tell us about Gandhi, the role that catapulted you into the public eye and for which you won an Oscar. How do you feel about that role?
"[Director Richard] Attenborough opened the door for my film career, and I love and thank him for that.
"It was one of my greatest challenges – how I hate that word! He knew I had never walked onto a film set as a leading man, but I did have years of Shakespeare behind me, and that has been my most profound influence.
"Shakespeare mapped out parts of human behaviour that are undeniably true and pure – he almost invented the human being. To go from Shakespeare to Attenborough, literally in one month, that synergy was just perfect."
Is there one performance which has given you particular satisfaction?
"I have been embraced by many Holocaust survivors who have thanked me for telling their story [in Schindler's List]. And I have been the recipient of extraordinary awards, but I'm not very good at looking back.
"However I do remember when we filmed one of many ghastly scenes in Schindler's List, dear Steven [Spielberg] turned to me with his eyes glittering and said: 'That's in my movie.' In other words, he was saying: 'Argue with that – it's undeniable.'"
How do you feel about the incredible people you've worked with along the way?
"I feel I've been guided from one angel to another in terms of life's journey. Healers, storytellers, remarkable people. They have left echoes – what I call voices in my head and my heart – and I still hear them."
How do you manage life in the public eye?
"I do remain private, and my boundaries are fairly strong. I'm not on Facebook or Twitter, and I avoid anything and everything written about me – with respect to those that are writing it.
"I spend my time reading scripts, or in the garden at home in Oxfordshire thinking about scripts, or cooking for my wife. I'm dead normal, really."
Get the latest updates, reviews and unmissable series to watch and more!
Thank you for signing up to Whattowatch. You will receive a verification email shortly.
There was a problem. Please refresh the page and try again.