Tutankhamun's Max Irons re-evaluates co-star Sam Neill: 'He doesn't have a boring voice at all!'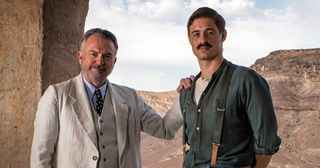 Max Irons encountered his Tutankhamum co-star Sam Neill when he was a child, but the Hollywood A-Lister didn't make a good first impression...
When Howard Carter unearthed the tomb of Tutankhamun in 1922, he became a household name all over the world. But the story of the most famous discovery in the history of archeology began over a decade before.
Before the discovery, Carter had been considered a joke by many of his contemporaries and without the financial backing of notable aristocrat Lord Carnarvon, he would never have found the final resting place of the ancient Egyptian ruler.
Now Max Irons plays Carter and Sam Neill stars as Lord Carnavon in a four-part ITV drama which recounts how the two men overcame the odds to rewrite history.
Max – who is the son of actors Jeremy Irons and Sinead Cusack – was far more complimentary about Sam than he was a couple of decades ago!
"Sam is one of the funniest men in the whole world," says Max. "It's the first time I've worked with him, but I actually spoke to him when I was about 10 and didn't like him much at the time!
"I went to boarding school when I was young and I was really, really homesick. My mother was in Australia working on a film with a guy called Sam Neill. She asked me if I wanted to talk to him on the phone and I did. Apparently afterwards I told her he had the most boring voice I'd ever heard!
"So I'd sort of met Sam before, but he doesn't have a boring voice. He has one of the best voices. He's a great guy!"
https://youtu.be/et_JLIF2DWw
This Sunday's opening episode is set in Egypt during the early 1900s, but in reality the drama was filmed in other parts of Africa.
"We filmed in South Africa, close to the border with Namibia," explains Max. "It's mind-blowingly hot. We were in a beautiful valley so there was no wind and the heat was scorching. On the first day they had to bring in extra trailers because so many people were fainting, dozens and dozens of extras were just passing out."
"There were also scorpions and jumping spiders everywhere!" he continues. "Spiders that jump – I don't know if I could think of anything worse. If you walk past, they see you coming and they jump on you. We had a couple of guys who spent the whole day looking for them and taking them off set. Afterwards he told us how many he found and it was pretty scary!"
A keen student of history, Max read a few books about Carter before taking on the role, but that wasn't the only preparation he did…
"Carter had a fabulous moustache so I tried to grow one," he says. "I'm 31 and I still can't grow a beard, but I had a good go at the moustache. I spent about a month growing that moustache that let's just say it's about 70 per cent mine!"
Max irons stars in Tutankhamun, which starts at 9pm on Sunday, October 16 on ITV
Get the latest updates, reviews and unmissable series to watch and more!
Thank you for signing up to Whattowatch. You will receive a verification email shortly.
There was a problem. Please refresh the page and try again.