'Turning people gay is a kind of superpower of mine': The wit of Carrie Fisher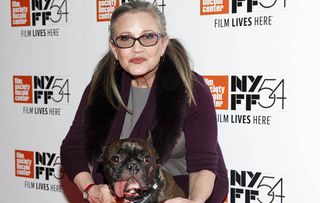 (Image credit: AP/Press Association Images)
The late actress Carrie Fisher will be remembered for her wit and wisdom as well as her role in the Star Wars films...
Carrie Fisher has been remembered by her millions of fans, not just for her work on the big screen, but for her prowess as an eloquent writer and her quick-witted and refreshingly honest interviews.
Her legacy will live on in her performances in films such as Star Wars, but let's also celebrate her words of wit and wisdom.
The actress said, in 2009: "People relate to aspects of my stories and that's nice for me because then I'm not all alone with it.
"Also, I do believe you're only as sick as your secrets. If that's true, I'm just really healthy."
Here are some of Carrie's memorable quotes:
Urging people with mental illness to follow their dreams
"Stay afraid, but do it anyway. What's important is the action. You don't have to wait to be confident. Just do it and eventually the confidence will follow." – Herald-Tribune
On writing her own obituary after being told by Star Wars boss George Lucas that Princess Leia could not wear a bra in space
"Now I think that this would make for a fantastic obit – so I tell my younger friends that no matter how I go, I want it reported that I drowned in moonlight, strangled by my own bra." – Wishful Drinking
On her celebrity parents Debbie Reynolds and Eddie Fisher
"Who's more famous than Debbie and Eddie? C-3PO and Darth Vader, and Jesus Christ and God." – Rolling Stone
On her notoriety as Princess Leia in the Star Wars films
"I am Princess Leia, no matter what. If I were trying to get a good table, I wouldn't say I wrote Postcards (From The Edge). Or, if I'm trying to get someone to take my cheque and I don't have ID, I wouldn't say: 'Have you seen [When] Harry Met Sally?'. Princess Leia will be on my tombstone." – WebMD
On why Princess Leia did not get her own lightsabre
"Even in space there's a double standard for women." – The Late Show with Stephen Colbert
On being a sex symbol
"What I didn't realise, back when I was this 25-year-old pin-up for geeks… was that I had signed an invisible contract to stay looking the exact same way for the next 30 to 40 years. Well, clearly I've broken that contract." – Shockaholic
On her former husband Bryan Lourd, who came out as bisexual before their split
"Turning people gay is kind of a superpower of mine. It's not called upon a lot, but when it is, I pick up my little pink phone, I put on my rainbow-coloured cape, and I'm there like a shot!" – New York Magazine
On the global success of the Star Wars films
"Forty-three years ago, George Lucas ruined my life. And I mean that in the nicest possible way… People are still asking me if I knew Star Wars was going to be a big hit.
"Yes, of course I knew. We all knew. The only one who didn't know was George Lucas." – Wishful Drinking
On always keeping upbeat through the difficult times
On mental illness
"Having waited my entire life to get an award for something, I now get awards all the time for being mentally ill. I'm apparently very good at it." – Wishful Drinking
Hitting back at critics commenting on her appearance in 2015′s The Force Awakens
"Please stop debating about whether or not I aged well. Unfortunately it hurts all three of my feelings. My body hasn't aged as well as I have. Blow us."
"Youth and beauty are not accomplishments." – Twitter
On her addictions
On always being transparent in the public eye
"Because I grew up in a public family, I never really had a private life. And so if those issues are going to be public, I would rather them to be public the way I've experienced them rather than someone else assuming things about me.
"It's freeing to do it. Shame is not something I aspire to." – CBC
Carrie died in hospital after a heart attack suffered on Friday, December 23. She was 60.
Get the latest updates, reviews and unmissable series to watch and more!
Thank you for signing up to Whattowatch. You will receive a verification email shortly.
There was a problem. Please refresh the page and try again.