Natasha Lyonne: seven things you didn't know about the Poker Face star
From how she got her acting start to her favorite video game.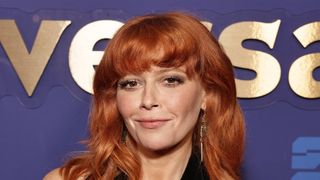 (Image credit: Todd Williamson/NBCUniversal)
Who doesn't love the amazing Natasha Lyonne? Hilarious, charismatic, smart. The multi-talented Emmy nominee is back on TV with Poker Face from writer/director Rian Johnson (Glass Onion). Lyonne plays Charlie Cale, a sharp-witted casino worker, with the uncanny ability to detect when people are lying, who must go on the run when she gets into hot water with the casino boss.
Lyonne is of course also known for her roles on popular shows like Russian Doll and Orange Is the New Black, as well as iconic teen movies American Pie and But I'm a Cheerleader. Though she's been working in Hollywood from a young age, here are seven things you may not have known about Natasha Lyonne.
Humor runs in Lyonne's family
Lyonne was born to a father who was a boxing promoter and race car driver, as well as a mother who was a former ballerina. So entertainment, to some degree, was always in her blood. But so was humor. Her father is a distant relative of cartoonist Al Jaffee, who worked for MAD magazine and created one of the magazine's trademark features, the MAD fold in. So as you can see, humor is in Lyonne's genes.
Lyonne got her acting start in Israel
Though Lyonne was born in New York City and lived there most of her life, she also spent time in Israel during her childhood. Her family lived there from 1986-1988. There she was selected to perform in an Israeli children's movie called April Fool, which ultimately drove her to a career in acting.
Though her family moved back to New York shortly after, Lyonne had caught the acting bug. Following her debut in April Fool, she began to book more roles, such as brief appearances on shows like Pee Wee's Playhouse and films like Dennis the Menace (1993). Naturally her life would suddenly change in her teenage years with star making performances in Slums of Beverly Hills, Everyone Says I Love You, But I'm a Cheerleader and, of course, the American Pie series.
Partnership with Amy Poehler
Many already know that Lyonne and former Saturday Night Live and Parks and Recreation superstar Amy Poehler struck gold when they teamed up with Leslye Headland to co-create Russian Doll in 2019. However this was not the first sitcom collaboration between Lyonne and Poehler.
In 2014, Poehler, writers Josh Bycel and Jonathan Fener, as well as director David Wain, teamed up to create a comedy pilot for NBC called Old Soul. The pilot centered around a former wild child who creates a business caring for the elderly. Lyonne was meant to star in the main role of Nadia, alongside Hollywood legends Ellen Burstyn and Rita Moreno. Unfortunately the series was not picked up by the network. But the character name Nadia made its way into Poehler and Lyonne's second, successful, collaboration, Russian Doll.
Lyonne's wild past
Lyonne had a few rocky years during the mid 2000s. She had a history of DUIs, legal issues and issues with heroine and other substances. She was admitted to treatment centers throughout those few years. But eventually conquered her vices and pulled herself up to become a seasoned actor, director and writer, and multi-Emmy nominee. The only vice she still has today is smoking and comedy.
Lyonne was evicted from an apartment owned by actor Michael Rappaport
Lyonne was at one point evicted from her apartment; a complex that was once owned by character actor Michael Rapaport (Only Murders in the Building). Rappaport went on record with The New York Daily News to say that, at the time, "People were going in and out of the apartment, [one of the tenants] was telling me about the late-night parties, and random dudes sprawled out on her sofa at all times. [Another tenant] had a little dinner party. Natasha was screaming up at them throughout the party." Rappaport and Lyonne have since reconciled, with Rapport saying the following on Bravo's Watch What Happens Live After Show, "We're totally reconciled, we're good friends, and she's like a sister to me. So we're cool."
Lyonne had life-saving heart surgery
Lyonne suffered from heart valve damage caused by endocarditis she experienced in 2005. In 2012, she underwent a serious open-heart surgery procedure, which ultimately saved her life. Speaking about the operation to The Guardian in 2019, Lyonne said, "In many ways, the reason I'm not dead is because there's a fighter in me that wants to survive."
Lyonne is a big fan of the Zelda video games
Though Charlie Cale may be the hero of Poker Face, Lyonne has been known to play regularly as a completely different type of hero: Link of Hyrule. Lyonne is a die-hard Zelda fan, often posting regular Tweets about her quests through Hyrule on social media. During an interview on Conan, when asked about three things that make her happy, she replied "Smoking, swimming and Zelda the video game. I play that about 12 hours a day, in place of sleep."
Natasha Lyonne's fact file
Frequently asked questions about the star:
How old/tall is Natasha Lyonne?
Lyonne is 43 years old, and 5-foot 3-inches tall.
Who is Natasha Lyonne dating?
Though Lyonne was publicly dating former SNL comedian and Portlandia star and creator, Fred Armisen, the two broke up in April 2022. She has not publicly said anything about any current relationships.
What is Natasha Lyonne's natural hair color?
Lyonne is naturally blonde. She dyed her hair red for Russian Doll and some other roles.
Where is Natasha Lyonne from?
Lyonne was born in New York, but has lived in Israel and Miami during her life.
Does Natasha Lyonne have social media?
Lyonne is active on Instagram and Twitter. Her handle is @nlyonne on both.
Get the What to Watch Newsletter
The latest updates, reviews and unmissable series to watch and more!
Mike is a proud, sarcastic nerd with a penchant for comic books, comic book movies, and movies in general, and occasional delusions of grandeur. He's also a UC Berkeley graduate who decided to go into writing over pre-med because he figured he'd ultimately save more lives by not being a doctor. He's a Slytherin and a Pisces, so he's very emotionally sensitive, yet also evil, but can be defeated by exploiting his insecurities. His goal is to live one hell of a unique life, and it's been working so far! His proudest moments are being retweeted by James Gunn and Ryan Reynolds in the same week, and getting 999,999 points on Buzz Lightyear Astro Blasters at Disneyland.
You can find Mike's writing around the web at publications like The Nerds of Color, What to Watch, Spoiler Free Reviews, and That's It LA.