The Top 10 Times Celebrity Big Brother Housemates Lost the Plot!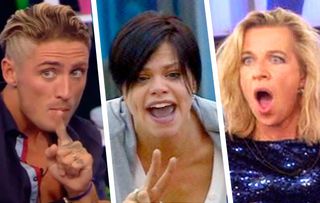 (Image credit: REX Features)
It's time to count down the 10 most memorable, outrageous and downright crazy moments in Celebrity Big Brother history...
Is Celebrity Big Brother the most contentious, controversial, combative show on TV? These moments certainly suggest so... It's time for us to take a trip down memory lane to countdown the most memorable moments from CBB history.... You're now live, please do not swear!
10. Lee Ryan's love triangle
https://www.youtube.com/watch?v=6JAjEHCBUaQ
Year: 2014
Involving: Singer Lee Ryan, models Jasmine Waltz and Casey Batchelor
The incident: There's been plenty of love in the Big Brother house down the years, but none perhaps more awkward than in 2014. Boy band member Lee Ryan began with housemate Casey Batchelor before dumping her for Jasmine Waltz only to return back to Casey after Jasmine was evicted. Watch his mini meltdown in the diary room above (super awkward doesn't do things justice...).
9. George Galloway as a cat
https://www.youtube.com/watch?v=KQA2X4yvK_g
Year: 2007
Involving: MP George Galloway
The incident: Still an MP at the time, George Galloway was branded 'a laughing stock' by a Labour opponent after appearing on CBB in 2007 where he pretended to be a cat, and mimed licking milk from the hand of actress Rula Lenska. The task (no, he didn't do it of his own accord) was cringe-worthy to say the least. Watch it in its full feline glory above.
8. Vanessa Feltz's breakdown
https://www.youtube.com/watch?v=iWRxT7FJBa0
Year: 2001
Involving: Broadcaster Vanessa Feltz
The incident: Lasting only eight days, the first series of CBB had nowhere near the level of absurdness as recent years, but Vanessa Feltz's breakdown in the middle of the show can rival anyone. Clearly bored out of her skin, Vanessa took it upon herself to use the chalk for the shopping list to write on everything she could find. Housemates looked on, stunned.
7. "Oh my God, Jackie!"
https://www.youtube.com/watch?v=8KYv0e1FXJU
Year: 2005
Involving: Actress Brigitte Nielsen and Jackie Stallone (Sylvester's mother)
The incident: Everyone loves a good shocked housemate reaction (remember Calum Best's face when his mother, Angie, entered this year?). But none will be more memorable than when Brigitte Nielsen's mother-in-law, Jackie Stallone, entered the house halfway through series 3. Famously disliking each other, Jackie only lasted four days in the house, but the "Oh my God, Jackie!" reaction will live long in the memory.
6. Leo Sayer breaks out
https://www.youtube.com/watch?v=_Ly6cf1Syh8
Year: 2007
Involving: Singer Leo Sayer and a bunch of security guards
The incident: The same year as the famous Shilpa Shetty vs. Jade Goody racism row, Leo Sayer staged a dramatic break-out from the Big Brother house after being refused clean underwear (enough to make anyone go crazy, right?). Breaking through the fire escape with a broom, Leo dramatically fought past security to escape Lara Croft-style. Why he didn't just ask to leave the usual way no one quite knows...
5. Stephen Bear
https://www.youtube.com/watch?v=qb_aomDGW8E
Year: 2016
Involving: Reality TV star Stephen Bear
The incident: Big Brother has had its fair share of controversial characters, but none are perhaps more controversial than Ex on the Beach star, Stephen Bear. Similar to Perez Hilton's antics from 2015, Bear was the ultimate prankstar, driving fellow housemates Frankie Grande (after using all the coffee for a 'coffee-cocktail') and mob wife Renee Graziano (locking her in a room) up the wall. He had the last laugh, however, ending the series as winner.
4. "David's dead!"
https://www.youtube.com/watch?v=97pEKGNT0Xw
Year: 2016
Involving: David Bowie's ex-wife Angie Bowie, American reality star Tiffany Pollard and music producer David Guest
The incident: Informed off camera about the death of her former husband, David Bowie, Angie tells housemate Tiffany: "David's dead". Only problem was, fellow housemate David Guest was in bed feeling ill that day, and Tiffany assumed Angie meant Guest had died. Cue tears, chaos and confusion.
3. Denise Welsh pulls down Karissa's trousers
https://www.youtube.com/watch?v=uP6Gk1Yf-cY
Year: 2012
Involving: Actress Denise Welsh and glamour model Karissa Shannon
The incident: Ah, how we love a CBB party. Usually alcohol-fuelled, things got pretty crazy in 2012 when drunk Denise pulled down the trousers of Karissa Shannon, resulting in a fierce argument between the pair. Karissa and fellow model Nicola McLean both then asked to leave with Frankie Cocozza (remember him?) playing peacemaker, helping to calm down Denise
2. Katie Hopkins vs. Perez Hilton
https://www.youtube.com/watch?v=O_MIxTMT4Kw&feature=youtu.be
Year: 2015
Involving: Celebrity blogger Perez Hilton and professional loudmouth Katie Hopkins
The incident: With Jeremy Jackson and Ken Morley both being thrown out of the house and Alexander O'Neal walking out, January 2015 was an eventful year in CBB, but it was the continued rivalry between Hopkins and Hilton that really got people talking. Perez's outrageous antics meant the series (renamed by Hilton as 'The Perez Show') became the most-watched since moving to Channel 5. It was later won by Katie Price (although Hopkins later insisted it was a fix).
1. Shilpa Shetty and Jade Goody's race row
https://www.youtube.com/watch?v=b1zUIdMiyaQ
Year: 2007
Involving: Bollywood actress Shilpa Shetty, Jade Goody, Danielle Lloyd and Jo O'Meara
The incident: The time everyone and their mother had an opinion about the goings-on in Borehamwood. Accusations of bullying and racism sparked demonstrations in India, Ofcom received a record number of complaints, sponsorship for the show was suspended and the Goody/Shetty rivalry was even discussed in Parliament. It may have been uncomfortable, but it will always be remembered as the peak of Big Brother.
Has 2017 provided anything quite this combustible? Watch the Celebrity Big Brother Live final on Channel 5 on Friday, February 3
Get the latest updates, reviews and unmissable series to watch and more!
Thank you for signing up to Whattowatch. You will receive a verification email shortly.
There was a problem. Please refresh the page and try again.