Downton's Penelope Wilton says she has to 'up her game' acting with Maggie Smith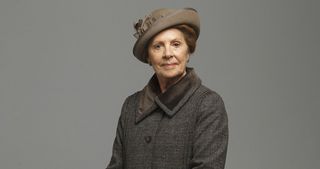 (Image credit: Nick Briggs)
Penelope Wilton (opens in new tab) tells TV Times (opens in new tab) about the battles in store for Downton Abbey's Isobel and why co-star Maggie Smith and Richard Briers are her heroes...
How would you describe your character Isobel and her role in Downton?
"Isobel's a free spirit and says what she thinks, and people should do that, so I admire her. Also, she's middle class, and this whole series is about class, so she has an outsider's view of this sealed aristocratic world and the viewers cleverly get a sidelong look at this family through her eyes."
Lord Merton (Douglas Reith) is besotted with Isobel. This week she announces their engagement, but we hear matters go awry when she encounters his snobbish sons…
"Isobel doesn't believe in the aristocracy and privilege so she feels it would be hypocritical to join his world, but they have a lot in common, so she's juggling her feelings. His sons don't want him to marry a commoner though so there's tension and Isobel knows that if you come between a father and son, it never makes for a happy union…"
Isobel's friendship with Dowager Violet (Dame Maggie Smith) remain a cornerstone of the drama, what makes that relationship work so well?
"Julian Fellowes writes so well for these ladies, he obviously had aunts or cousins, so he does good sparring. They are in a similar situation as they are both widows and they keep each other going. They have a spirited relationship, but underneath there's a healthy regard; they admire each other enormously."
And we understand you and Maggie are good friends off screen…
"She's a high comedienne and as an actress, and a person, I admire her talent, wit and quickness. I'm extremely fond of her and we've similar backgrounds and interests.
"A whole generation haven't seen her in the theatre, but she was the person I used to watch when I was about 17 or 18 and she was doing things at the National like Hedda Gabler and Othello. It's extremely nice to be doing scenes with her now, although it's like playing tennis with someone who is rather better at it than you; you have to up your game!"
How is it working with your Ever Decreasing Circles co-star Peter Egan again?
"It's lovely working with Peter again. We've a close friendship and he, Richard Briers and I met for meals together even up until the week before Richard died.
"Comedy is the most difficult thing and he was a great comedian, his timing was wonderful, not unlike Maggie's in many ways. You can't learn to be a comedian, you are one, not in terms of telling jokes, but in knowing how to place a line. He was just a wonderful person and I learned an enormous amount from him so it was a great loss."
What made Ever Decreasing Circles so special?
"It was a clever mix putting us three together. The writing was charming but sad and bittersweet because Martin felt a failure. It was certainly Richard's favourite character, he loved it, because he'd played a cheery chap in The Good Life, but in Ever Decreasing Circles, he could play someone envious and pompous, but people were still fond of him."
Back on the Downton set, we hear the game Bananagrams is very popular among the cast?
"I'm competitive, but not as much as Maggie or Laura and Maggie usually wins! Being in Downton is not unlike being in the theatre because you are in a big company of actors with a real mix of ages and we've seen the younger ones grow up"
So what's next for Isobel?
"It has been great for all of us, but it depends how long they want me or how long I want to be there. On the whole things have a natural end and we'll know when it is coming to a close."
Downton Abbey continues on ITV on Sunday nights.
Get the latest updates, reviews and unmissable series to watch and more!
Thank you for signing up to Whattowatch. You will receive a verification email shortly.
There was a problem. Please refresh the page and try again.