Joanne Froggatt reveals she was confronted by a 'very naked fan' asking her about Downton Abbey!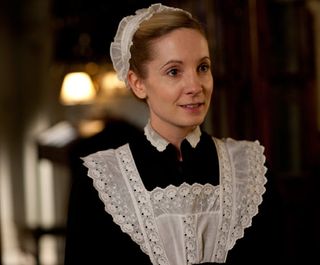 Joanne Froggatt has been playing Lady Mary's faithful servant Anna since 2010, but even now she seems a little baffled by the show's phenomenal success.
"If we knew exactly what the reason was, we'd all be writing our own TV scripts," Joanne says. "But ultimately it's good storytelling. In this one house you have a complete cross-section of the community. There's a character for everyone to love, and one for everyone to love to hate."
In particular, everyone loves Anna Bates - including the actress herself. "I guess Anna's a popular character because she's just a really nice girl. As soon as I read the script, I fell in love with her," says Joanne. "And the show is a constant reminder of how far we've come and how fortunate women are to have the vote now, and all these other things we didn't have 100 years ago."
A rather different learning experience has come from encounters with fans - the weirdest of them in the changing rooms of a hotel gym. "There was a lady who'd just stepped out of the shower," Joanne told the Daily Express. "She was very naked, vigorously drying herself and asking me about the show. I wasn't quite sure where to look."
Joanne has her fans at the Emmys, too. She was nominated for a Supporting Actress gong this year, and remembers herself screaming, jumping up and down and getting a little tearful when she heard about the nomination.
In the event, her Downton co-star Dame Maggie Smith bagged the award - but from the way Joanne talks about the legendary actress, it's clear she doesn't harbour an ounce of resentment. "I don't think we'd be able to carry on without Dame Maggie," she says. "We miss everyone who's gone - Siobhan Finneran, Dan Stevens, Jessica Brown Findlay. We all started as a group together, but they wanted to go off and do different things."
When it comes to work, Joanne herself likes to mix it up. Now the new series of Downton has finished filming - and no, she can't say anything about it because the cast are under strict orders not to give spoilers - she's been lined up to do Rabbit Hole on stage in the West End. Filmed in 2010 with Nicole Kidman in the lead, this is a hard-hitting play about a couple struggling to cope with the death of their young son.
"I try to do things that are different and diverse and really interest me," says Joanne. "It's a role I've been waiting for ever to play, and I totally fell in love with the script the moment I read it. It's heartbreaking, but really funny in parts as well."
But Joanne points out that playing Anna remains her priority. That's just as well, since viewers remain gripped by Anna's not-always-plain-sailing marriage to valet John Bates (Brendan Coyle). Will it eventually be a case of happy ever after?
"I think Anna and Bates probably will end up having a peaceful life together," says Joanne.
"But I'm not sure how [Downton creator] Julian Fellowes will tie the storyline up. As a viewer I'd like to see them happy - though as an actress I like the dramatic stuff."
You would think, after several years starring in one of the world's most popular TV series, that Joanne would be an expert at all manner of household chores, but the actress reckons she'd be terrible at Anna's job.
"Oh, I'd be rubbish," she says. "The servants only got half a day off every fortnight and that wouldn't suit me. They worked incredibly long hours and there was no time for play. And I like to play."
The new series of Downton Abbey is expected to air on ITV later this year.
Get the What to Watch Newsletter
The latest updates, reviews and unmissable series to watch and more!