The Company You Keep episode 2 recap: Charlie and Emma grow closer
Meanwhile, the Nicoletti family eye a million dollar necklace.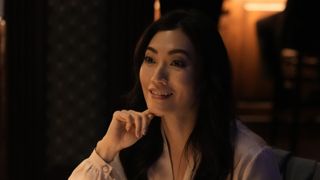 (Image credit: ABC/Scott Everett White)
NOTE: This post contains spoilers for The Company You Keep episode 2, "A Sparkling Reputation."
In debt $15 million to the Maguire crime family, it's little wonder the Nicolettis are hard at work trying to find a new mark to steal from. That's exactly why "A Sparkling Reputation" opens with them at a ridiculously expensive auction.
Charlie (Milo Ventimiglia), Fran (Polly Draper) and Leo (William Fichtner) are pretending to be a waiter, bidder and driver, respectively, while Birdie (Sarah Wayne Callies) keeps surveillance in a nearby van.
They pick the former Russian ambassador Claude Ellsworth (Reilly Burke) and his wife (Kristin Carey) as their targets after they spend $500,000 on a black diamond necklace originally from India. They're especially intrigued after discovering that the Ellsworths bought the extremely rare necklace from themselves, all so that they can launder their ill-gotten money.
After helping his family at the auction, Charlie meets Emma (Catherine Haena Kim) for their first official date. Instead of picking up straight where they left off at the hotel, the pair feel awkward just sitting opposite each other in a glitzy restaurant. So they decide to play things safe and head back to Emma's car to have sex instead, before calling it an early night.
Emma is currently living with her parents, Joseph (James Saito) and Grace (Freda For Shen), which is also the headquarters for her brother David's (Tim Chiou) senate re-election campaign. Much to Emma's annoyance, Grace wants the four of them to take part in a photo-shoot to help boost David's popularity. However, Emma points out that David's numbers are actually lagging amongst Asian-American voters, so he may need a different plan.
Impressed by her insight, David asks Emma to quit her seemingly mundane day job and join his campaign as a supervisor. The problem is, like everyone else in her life, David believes Emma only works as a data analyst as a linguistics firm. After a night of drinking through their parents' exorbitant wine collection, Emma finally decides to come clean, telling David that she works as an undercover agent.
Emma isn't ready to quit her job anyway. She's got her eyes firmly set on capturing Daphne Finch (Felisha Terrell), the de-facto head of the Maguire crime family after Brendan (Timothy V. Murphy) was arrested at the end of the episode 1. It's because of Daphne that Charlie and Emma come tantalizingly close to discovering each others' actual jobs.
Daphne pays a visit to the Nicolettis' bar. She not only demands the first payment of her $15 million in a few days, but also threatens Birdie's daughter Ollie (Shaylee Mansfield). Birdie and Charlie decide to follow Daphne to her hotel. Charlie breaks into her room to look for something they can use over her, but only discovers some photos of her mother on holiday. But when the hotel door swings open, instead of Daphne, it's Emma. Charlie manages to sneak out of the room without being seen, and without seeing Emma, who leaves behind a hidden camera to keep track of Daphne.
Meanwhile, after Leo takes on the alter-ego of flamboyant photographer Milos, the Nicoletti family are able to gain access to the Ellsworth house for a photography session. Posing as an assistant, Charlie blows a fuse, which allows him the time and space to find the safe keeping the necklace. With Birdie having got Mr. Ellsworth's fingerprint while giving him make-up, Charlie is able to open the safe and switches the real necklace for a fake.
Back at headquarters, Birdie discovers that the necklace had already been stolen. This means that they're unable to sell it on the black market. Charlie quickly comes up with a new idea. He returns to the Ellsworths' house and tells Mr. Ellsworth that the Indian ambassador and a Washington Post reporter are outside. Charlie is going to tell them the truth about the Ellsworths' criminal history, unless he gives him $900,000. Scared of ruining his reputation, Mr. Ellsworth gives him the money instantly.
Charlie hands over the money to Daphne, but she is unmoved by Birdie's request to keep her child out of their dispute. When Charlie shows Leo and Fran the pictures of Daphne's mother, they recognize the location as Ireland. Immediately, Charlie realizes that Daphne is actually Brendan's daughter, giving them the little bit of leverage they were craving.
Emma has no such luck getting an advantage. Daphne spots someone has been in her hotel room, discovers the government's surveillance camera and then sends them to a remote location at Baltimore harbor where they think they're about to arrest her. But no-one is there, except the broken surveillance camera, leaving Emma livid and humiliated.
It's not the first time in the episode that Emma is left furious. After another failed attempt at a date ends in her and Charlie having sex in a car again, he tries to probe a little deeper into her personal life. But she rejects these questions, insisting what they have is purely physical, which leaves Charlie frustrated.
Eventually, Emma calls Charlie to apologize. She reveals she's not comfortable with being seen so clearly by him and admits he might actually be the only person that has ever known her so well.
All of which helps "A Sparkling Reputation" to be a strong sophomore episode for The Company You Keep. Considering that it has at least five plots to juggle, the episode flows effortlessly, while always being riveting and surprising. At the same time, it manages to dig deeper into Emma and Charlie's unique connection.
Not only do Kim and Ventimiglia clearly have the chemistry required to carry the show, but the writers look like they'll be able to explore their peculiar romance in a captivating and emotional manner.
With $14.1 million still left for the Nicolettis to pay back, there should be plenty more romantic complexity for The Company You Keep to depict, too.
New episodes of The Company You Keep airs Sundays on ABC, then streams on-demand the next day on Hulu.
Get the What to Watch Newsletter
The latest updates, reviews and unmissable series to watch and more!
Born and raised in England but now based in Philadelphia, Gregory Wakeman has written for the BBC, New York Times, The Guardian, GQ, and Yahoo Movies UK, all while defiantly trying to keep his accent.