The Glory Part 2 ending explained: Did Dong-eun get her revenge?
Get the answers to some of The Glory Part 2's biggest story beats.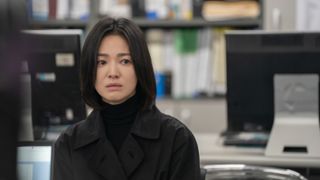 (Image credit: Graphyoda/Netflix)
The Glory Part 2 finally allowed us to see Moon Dong-eun (Song Hye-kyo) continue to enact her plan to get revenge on the bullies that ruined her life when she was just a young girl.
The season finale of The Glory functions not only to reveal how Dong-eun fares in her ultimate quest for vengeance as she continues to step up her plans. Along with wrapping up her quest, episode 16 might have teased that we could be seeing more from Moon Dong-eun and her paramour, Joo Yeo-jeong (Lee Do-hyun), too!
Below you'll find the most important parts of The Glory Part 2 ending explained. Be warned, though; there are major spoilers ahead, so don't continue on if you don't want anything spoiled!
The Glory Part 2 ending explained: Did Dong-eun get her revenge on Yeon-jin?
Yes. Over the course of the series, Dong-eun worked tirelessly to discredit and isolate her main bully, Park Yeon-jin. To do so, she turned everyone against her, from her friends (who helped Yeon-jin torment Dong-eun at school), her husband and even her own mother.
In the final episode, Dong-Eun finally got the satisfaction of seeing Yeon-jin answer for her crimes. Earlier in the series, Yeon-jin had been lured to Yoo-jeong's clinic, where he took a sample of her skin that Dong-eun later planted under the fingernails on Myeong-o's body.
When the DNA report from Son Myeong-o's body came back, the detective realized that it was the same DNA found on the lighter which was at So-hee's crime scene (one of Yeon-jin's victims). As her final piece of evidence against Yeon-jin, Dong-eun placed the murder weapon used to kill Myeong-o (a wine bottle) at Siesta and tipped off the police (we explain where she got the bottle below).
Yeon-jin receives a video of the bottle standing in plain sight, and when she rushes to the scene of his death, the police are there inspecting the scene, and she's arrested there and then.
Who killed Son Myeong-o?
It was eventually revealed that the person who'd killed Myeong-o was Gyeong-ran; she was friends with Moon Dong-eun but the pair lost touch at some point in the past. She ended up killing him after Yeon-jin had already brutally attacked him with the expensive bottle of wine when Myeong-o tried to blackmail her about So-hee's murder.
The shocking reveal that Gyeong-ran delivered the final blow came in the final episode of The Glory. Myeong-o managed to survive Yeon-jin's assault and reached out to Gyeong-ran for help. As it turns out, he'd been assaulting her, so she took her revenge in that moment and hit him with the bottle one last time.
Gyeong-ran subsequently reached out to Dong-eun for help and gave her the bottle, allowing her to frame Yeon-jin for Myeong-o's murder even though she wasn't fully responsible for his death.
How did Jeon Jae-jun die?
After handling Yeon-jin, Dong-eun set out to finally get revenge on Jae-jun, the sole remaining bully, and she recruited Choi Hye-Jeong to help.
Hye-jeong was being treated in the hospital after Sa-Ra stabbed Hye-jeong in the neck for posting an explicit video of her together with Myeong-o online. Whilst they were able to save her life, the doctors weren't able to salvage Hye-jeong's vocal chords; when he heard the news, Jae-jun dumped her.
Hye-jeong is desperate to get revenge on him for abandoning her, and Moon Dong-eun offers her a chance. Although she leaves the choice up to Hye-jeong, she instructs her to switch out his Jae-jun's glaucoma medication for something more toxic.
She's prompted to do so when she goes to pack her things at his place as he continues to be rude to her. Later on, Jae-jun goes to try and tell Ye-sol that Ha Do-yeong isn't her father, he is.
After learning that Ye-sol's been transferred to a school abroad, he asks to meet Dong-eun wants happened after failing to get hold of Do-yeong. Whilst driving to their spot, he goes to use his eyedrops. Blinded, he gets involved in an accident.
We then see what happened to him following the accident as Dong-eun and Yeo-jeong mull over what happened to him following the crash. Whilst searching for help, a mystery man (who is heavily implied to be Do-yeong) pushes him off a building and into a pool of cement. Do-yeong is then seen leaving the country with Ye-sol.
Will there be a second season of The Glory?
Whilst nothing has been confirmed just yet, it's entirely possible that another helping of The Glory could be on the way. That's both because the series has been very popular on Netflix, and owing to the fact that the series sets up a new plan of action between our two loved-up leads in the final episode.
In the latter half of episode 16, Moon Dong-eun is asked by Joo Yeo-jeong's mother to help save her son. So, she walks back into his life after having said her goodbyes and commits to help him seek his revenge on Kang Yeong-cheon, the man who killed his father.
The final moments of the episode saw the two confessing their love for one another before heading inside Jisan Prison, where they'd both gotten jobs. They'd already engineered Yeong-cheon's transfer to Jisan and Yeo-jeong has gained an ally on the other side of the bars so it seems likely that we could be seeing this new revenge plan play out if The Glory gets picked up for a second season.
The Glory season 1 is now available to stream on Netflix. For more shows to enjoy, check out our guide to the best Korean dramas on Netflix, and the best Netflix shows you should be streaming right now.
Get the What to Watch Newsletter
The latest updates, reviews and unmissable series to watch and more!
Staff Writer at WhatToWatch.com
Martin is a Staff Writer with WhatToWatch.com, where he produces a variety of articles focused on the latest and greatest films and TV shows.
Some of his favorite shows are What We Do In The Shadows, Bridgerton, Gangs of London, The Witcher, Doctor Who, and Ghosts. When he's not watching TV or at the movies, Martin's probably still in front of a screen playing the latest video games, reading, or watching the NFL.