Baywatch | Dwayne Johnson's charm and Zac Efron's cool can't stop this reboot from sinking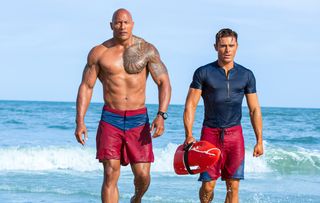 (Image credit: Frank Masi, SMPSP)
Giving a knowing comic spin to a cheesy late-1980s/90s TV series worked a treat for big-screen spoof 21 Jump Street and its sequel, but not even Dwayne Johnson's buoyant charm or Zac Efron's self-mocking cool can prevent this wantonly crude Baywatch reboot from sinking like a stone.
Of course, the cheerfully silly TV original could hardly have set the bar lower, but you would need a good deal more wit than is evident here to turn its formula of sun, sea and slow-mo beach running in skimpy spandex into something worth watching at feature length.
Bungled cameos
Johnson and Efron do, admittedly, have the odd mildly amusing sally early on, as Johnson's veteran lifeguard tries to put Efron's cocky newcomer, a disgraced Olympic swimmer, in his place, giving him such belittling nicknames as 'One Direction', 'High School Musical', 'NSYNC' and 'Malibu Ken'. But their repartee quickly runs out of fizz to be replaced by a series of gross-out gags and limp penis jokes.
Their female co-stars, Alexandra Daddario, Kelly Rohrbach and Ilfenesh Hadera have little to do other than fill out a swimsuit, while the film's crime-busting plot – stopping the schemes of Bollywood star Priyanka Chopra's vampy drug-dealing villain – couldn't be lamer. Then, just when you think Baywatch has already plumbed the depths, it manages to bungle the obligatory cameos from David Hasselhoff and Pamela Anderson.
Certificate 15. Runtime 116 mins. Director Seth Gordon
https://www.youtube.com/watch?v=eyKOgnaf0BU
Get the latest updates, reviews and unmissable series to watch and more!
Thank you for signing up to Whattowatch. You will receive a verification email shortly.
There was a problem. Please refresh the page and try again.