Blood Bath (1966) | DVD release - It's four cult films for the price of one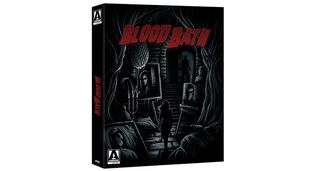 If you have ever wondered why the 1966 AIP drive-in horror Blood Bath looks like it was shot by Orson Welles or Jean Cocteau in an exotic European locale, then this latest Arrow release was made just for you.
Containing four separate films, Operation Titian (1963), Portrait in Terror (1965), Blood Bath (1966) and Track of the Vampire (1967) and an insightful visual essay, this limited edition box-set is must-have for fans of 1960s schlock and the cinema of the king of the B's Roger Corman.
For many, this is the first time that the Yugloslavian-made murder mystery Operation Titian has been made available on DVD, and it's a revelation (I've now started seeking out the other films of its Serbian director). Seeing a restored version of the surreal beatnik horror chiller Blood Bath, is also a real treat, despite its flaws, and the inclusion of Portrait in Terror and Track of the Vampire, which were re-edits of Blood Bath, will certainly please the completists, but they are missable in my book.
What's not missable however is the visual essay by Video Watcdog's Tim Lucas. Engrossing and illuminating, his feature-length analysis of Blood Bath's convoluted history makes revisiting the film and its various versions all the more rewarding.
http://www.youtube.com/watch?v=fGb9BNmDVCM
Get the What to Watch Newsletter
The latest updates, reviews and unmissable series to watch and more!