Diary of a Wimpy Kid: Dog Days - Summer gets hot for a pre-teen fibber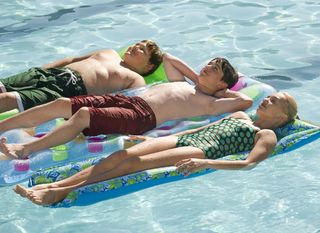 (Image credit: Photo by: Diyah Pera)
School's out for puny pre-teen Greg Heffley in Diary of a Wimpy Kid: Dog Days, the third screen adventure based on the best-selling series of illustrated children's books by Jeff Kinney. The long summer stretching ahead would be the perfect time to polish his video-gaming skills if it wasn't for a strict parental veto, so Greg invents a fictitious job at the local country club to get mum and dad off his back. With best friend Rowley and dream girl Holly both on hand, all goes swimmingly for Greg until elder brother Rodrick tries to get in on the act and the fibs spiral out of control…
Based on the third and fourth books in the Wimpy Kid series, Dog Days delivers an engaging and truthful look at the ordeals and joys of pre-teen boyhood. The acting may be cartoony and the action sketchy, but the film's breezy good-humour - personified by Robert Capron's kindly, loyal Rowley - makes it easy to like. The filmmakers had better hurry up, though, if they want to extend the series further: fast-growing star Zachary Gordon's Greg won't look wimpy for very much longer.
On general release from Friday 3rd August.
Get the latest updates, reviews and unmissable series to watch and more!
Thank you for signing up to Whattowatch. You will receive a verification email shortly.
There was a problem. Please refresh the page and try again.