Flesh + Blood (1985) | Paul Verhoeven's violent medieval epic starring Rutger Hauer on Blu-ray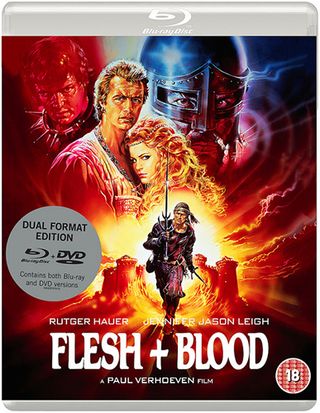 From Eureka Entertainment comes the 16th-century mud and guts epic, Flesh + Blood, uncut and on Blu-ray for the first time in the UK
In Western Europe, 1501, Martin (Rutger Hauer), a mercenary adventurer, serves with his ragged band of uncouth soldiers in the army of Arnolfini (Fernando Hilbeck), a minor nobleman who has been expelled from his walled city.
Thanks to the military skills of Arnolfini's commander, Hawkwood (Jack Thompson), the city is retaken. The nobleman rewards Hawkwood by giving him some farmland, but betrays Martin and his band out of their share of the spoils.
Swearing revenge, Martin leads a violent assault on the nobleman and ends up accidentally kidnapping the beautiful Agnes (Jennifer Jason Leigh), the fiancée of Arnolfini's son Steven (Tom Burlinson), who in turn pledges to wipe out the mercenary group once and for all…
Director Paul Verhoeven's deliriously violent medieval epic shocked audiences of the day, who had become used to the highly romanticised depictions of the era on the big screen. Watching it today, however, it comes off like an 18-certificate version of Monty Python and the Holy Grail, but with added gross-out visuals and outrageously OTT performances from the central leads.
Originally censored in the UK due to its sex and violence, Eureka Classics presents Flesh + Blood fully uncut, and on Blu-ray for the first time in the UK in a special Dual Format edition (Blu-ray/DVD).
SPECIAL FEATURES • Limited Edition O-Card slipcase (first print run only) • 1080p presentation of the film on Blu-ray, with a progressive encode on the DVD. • Uncompressed LPCM audio (on the Blu-ray • Optional English subtitles • Audio commentary by director Paul Verhoeven • Paul Verhoeven in the Flesh (21 mins) • Verhoeven Versus Verhoeven: Documentary on the iconic director (45 mins) • Audio interview with actor Rutger Hauer (24 mins) • Interviews with screenwriter Gerard Soeteman and composer Basil Poledoris • Original theatrical trailer • Collector's booklet (first pressing only)
https://youtu.be/J-7H2TYMV0w
Get the latest updates, reviews and unmissable series to watch and more!
Thank you for signing up to Whattowatch. You will receive a verification email shortly.
There was a problem. Please refresh the page and try again.