His Girl Friday | The Criterion Collection releases Howard Hawks' dazzling 1940 comedy on Blu-ray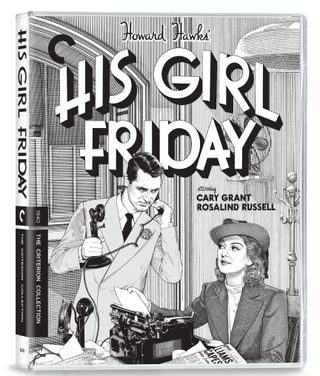 The Criterion Collection's new Blu-ray release of Howard Hawks' brilliant 1940 comedy His Girl Friday starring Cary Grant and Rosalind Russell.
Howard Hawks' brilliant 1940 comedy His Girl Friday may be more than three-quarters of a century old but you would be hard pressed today to see anything fresher or funnier on screen. Or faster. With Cary Grant and Rosalind Russell in the leading roles trading whip-smart put-downs and wisecracks at breakneck speed, the movie's reputation as the fastest-talking comedy in Hollywood history is well deserved.
Indeed, film scholars have clocked some of the film's speeches at 300 words a minute, twice the speed of normal conversation. Which means it takes a good few viewings of the film to catch all the jokes - and which makes The Criterion Collection's splendid new Blu-ray release all the more welcome.
As one would expect from Criterion, the Rolls-Royce of home entertainment labels, the film's high-definition digital restoration is excellent and the two-disc set is also packed with fascinating extra features, including a pair of archival interviews with Hawks from the early 1970s, interviews with film critics David Thomson, Molly Haskell and Todd McCarthy, and a visual essay by film historian David Bordwell, who celebrates His Girl Friday as the "apotheosis of classical Hollywood storytelling" while providing insights into the film's genesis and making.
"Dizzying screwball spin"
Hawks' movie was a remake of Lewis Milestone's 1931 newspaper comedy The Front Page, which makes up the second disc of Criterion's His Girl Friday release in a new 4K digital restoration made from a recently discovered print. Both films were, of course, adaptations of Ben Hecht and Charles MacArthur's classic 1928 stage play, but Hawks gave the original a dizzying screwball spin by famously changing the sex of one of the leading characters.
In Hawks' version, Grant plays Walter Burns, the unscrupulous Chicago newspaper editor scheming to win back his star reporter to cover a big story, the role played by Adolphe Menjou in the 1931 film. But this time newshound Hildy Johnson (Pat O'Brien in 1931) also happens to be his ex-wife, giving the pair's prickly rapport a delicious sexual tension.
Russell wasn't Hawks' first choice for the part. Jean Arthur, Claudette Colbert, Carole Lombard and Irene Dunne all turned down the role. Yet Russell proved ideal, and it's impossible now to imagine anyone else as the film's smart, sassy, briskly confident Hildy, nattily dressed at the start of the film in a striking chevron-striped coat and matching hat.
"Surprisingly dark streak"
Hildy wants to quit the grubby news trade and get married to bland insurance salesman Bruce Baldwin, played in another winning stroke of casting by Ralph Bellamy. Grant's Walter, however, resorts to every wile in the book to get her to stay and conduct a jailhouse interview with condemned murderer Earl Williams (John Qualen), a poor sap whose execution is being manipulated by the city's corrupt mayor on the eve of an election to win votes.
Strikingly, the film is almost as cynical as the mayor in its treatment of the hapless jailbird - as is Grant's hero - giving the comedy a surprisingly dark streak. Yet Hawks conducts the intrigue at such a frantic lick - achieving speed by means of overlapping dialogue and manoeuvring the actors within the frame rather than by quick cutting - that we are willingly swept along. And what lingers most is the stars' brilliant timing and fizzing chemistry as they swap insults and witticisms at lightning speed.
Extras
New high-definition digital restoration of His Girl Friday, with uncompressed monaural soundtrack on the Blu-ray
New 4K digital restoration of The Front Page, made from a recently discovered print of director Lewis Milestone's preferred version, with uncompressed monaural soundtrack
Interview with film scholar David Bordwell
Archival interviews with director Howard Hawks
Featurettes from 1999 and 2006 about Hawks, actor Rosalind Russell, and the making of His Girl Friday
Radio adaptation of His Girl Friday from 1940
New piece about the restoration of The Front Page
New piece about playwright and screenwriter Ben Hecht
Radio adaptations of the play The Front Page from 1937 and 1946
His Girl Friday trailers
Plus: An insert featuring essays on His Girl Friday and The Front Page by film critics Farran Smith Nehme and Michael Sragow
Get the latest updates, reviews and unmissable series to watch and more!
Thank you for signing up to Whattowatch. You will receive a verification email shortly.
There was a problem. Please refresh the page and try again.