The Sweeney - Ray Winstone and Ben Drew pack a wallop in cops-and-robbers reboot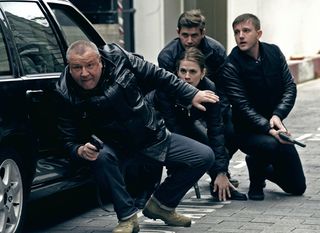 Nick Love, stalwart maker of British geezer movies, has come up with a flashy big-screen reboot for the iconic 1970s TV series The Sweeney.
With Ray Winstone and Ben 'Plan B' Drew filling the shoes of John Thaw and Dennis Waterman, the new film is an entertaining blend of old-school grit and modern-day gloss, taking the original's Flying Squad hard men Jack Regan and George Carter and dropping them into contemporary London to crack a series of armed heists.
The cops-and-robbers format is the same - and so is Regan and Carter's muscular brand of policing as they try to tie hardened villain Francis Allen (Paul Anderson) to a jewellery-shop robbery and get wind of a plot to raid a private bank off Trafalgar Square.
Regan and Carter, and their Sweeney colleagues, still go in swinging with pickaxe handles and baseball bats when foiling crimes, and don't shrink from dangling a suspect upside down off a tower-block roof to extract information, but the fact that Steven Mackintosh's finicky internal-affairs officer Ivan Lewis is now breathing down their necks shows that times have moved on since the 1970s. That Mackintosh's tight-laced desk-jockey is portrayed so unsympathetically is an indication, however, that Love secretly wishes they hadn't.
And just to rub the point home that we're meant to be cheering on Winstone's maverick bruiser, the hot young colleague with whom he's having an affair, Hayley Atwell's Nancy, is the prissy Lewis's unsatisfied wife. Not that we need to take Winstone seriously as a sex symbol: stretched out on his bed in his underpants he looks like a beached whale.
And it's best not to take the film too seriously, either. It's a lairy, laddish fantasy, and as such it really does pack a wallop. Love stages the action with a panache that belies the film's relatively modest budget and the big-set piece scenes - including a blistering shoot-out in Trafalgar Square modelled on the street battle in Michael Mann's Heat - have an exhilarating energy and punch that British crime movies rarely deliver.
On general release from Wenesday 12th September.
Get the latest updates, reviews and unmissable series to watch and more!
Thank you for signing up to Whattowatch. You will receive a verification email shortly.
There was a problem. Please refresh the page and try again.