Woody Allen: Six Films 1979 to 1985 | The early Mia Farrow years... and some technical tours de force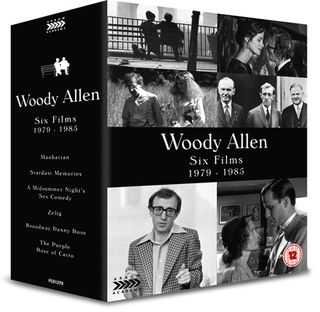 Woody Allen: Six Films 1979 to 1985, Arrow Academy's second Blu-ray box-set of Allen's work following its splendid first collection, encompasses a pivotal period in his artistic development. These are the years that saw Allen really begin to flex his filmmaking muscles and which saw Mia Farrow take over from Diane Keaton as his leading lady, both on and off screen.
Manhattan (1979), Allen's glowing love letter to New York, is arguably his masterpiece. A tragicomic romance shot in luminous black-and-white (by Godfather cinematographer Gordon Willis) to the rhapsodic strains of George Gershwin, it sees Allen playing a neurotic 42-year-old TV writer entangled with three women: his lesbian ex-wife Jill (Meryl Streep), who has just written a scathing account of their marriage; his 17-year-old girlfriend Tracy (Mariel Hemingway), still in high school but wise beyond her years; and the self-absorbed Mary (Diane Keaton), who just happens to be the mistress of his married best friend (Michael Murphy). A cinematic joy, right from Allen's opening voice-over: "Chapter One. He adored New York City. He idolised it all out of proportion..."
Stardust Memories (1980), Allen's homage to Federico Fellini's Otto e mezzo, again finds him trying to resolve his tangled relationships with three women - here played by Charlotte Rampling, Jessica Harper and Marie-Christine Barrault. But on this outing he is also being pursued by hordes of adoring fans, who all seem to prefer his 'earlier funny comedies' to the more serious and introspective films he now wishes to produce. Sharon Stone, more than a decade before Basic Instinct, makes her film debut as the 'Pretty girl on train'.
A Midsummer Night's Sex Comedy (1982) finds Allen tipping his hat to another of his filmmaking idols with a plot loosely inspired by Ingmar Bergman's Smiles of a Summer Night. The first of Allen's thirteen collaborations with Mia Farrow, the movie is a light-hearted period romp set on a farmhouse in upstate New York at the turn of the century where three couples - played by Allen, Farrow, Mary Steenburgen, Jose Ferrer, Julie Hagerty and Tony Roberts - come together over a summer weekend and end up changing partners. Allen casts himself as a Wall Street broker and part-time inventor whose newfangled flying machine makes its hilarious maiden flight in the course of the action.
Zelig (1983) is a technical tour-de-force, a spoof documentary that sees Allen's enigmatic, chameleon-like character, Leonard Zelig, popping up in archive footage of celebrities and historic events from the 1920s and 30s. So desperate to fit in that he's able to instantly adopt the characteristics of whatever kind of person he's with, Zelig becomes an object of fascination for Farrow's psychiatrist, Eudora Fletcher, after she comes across him at a Manhattan hospital.
Broadway Danny Rose (1984) finds Allen in the role of a hapless theatrical agent who gets mixed up with the Mafia after he attempts to to boost the career of an overweight Italian crooner (Nick Apollo Forte) who happens to be having an affair with Farrow's brash Mob moll. Framed as an anecdote swapped by a group of stand-up comics over lunch at New York's Carnegie deli, the movie is tender, endearing and delightfully quirky.
The Purple Rose of Cairo (1985) is one of the very few movies among his output that Allen feels came 'fairly close to what I wanted to do'. A bitter-sweet fantasy set during the Great Depression, the film casts Farrow as downtrodden waitress and devoted movie fan Cecilia, whose repeat visits to the titular film-within-the-film inspires Jeff Daniels' leading man to step down from the screen, declare his love and turn her life upside down. The episode is similarly discombobulating for Daniels' character, as he reveals after kissing Farrow for the first time: 'I don't know what happens next because there's always a fade-out'.
Woody Allen: Six Films 1979 to 1985 available on Blu-ray, courtesy of Arrow Academy. The collection includes a hardback featuring new and archive writing on all the films.
Get the latest updates, reviews and unmissable series to watch and more!
Thank you for signing up to Whattowatch. You will receive a verification email shortly.
There was a problem. Please refresh the page and try again.