Aidan Turner: 'Filming And Then There Were None in Cornwall, I had to remind myself I wasn't Poldark for a second!'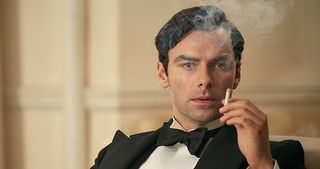 (Image credit: BBC/Mammoth Screen/Robert Viglas)
Aidan Turner (opens in new tab) is a far cry from kindly Ross Poldark as he stars in BBC1's three-part adaptation of Agatha Christie's And Then There Were None this Christmas.
The actor plays mercenary soldier Phillip Lombard, one of 10 strangers summoned to a remote Devon island by the mysterious U.N.Owen, but it's not long before their pasts catch up with them and a killer starts to pick them off one by one.
TV Times (opens in new tab) caught up with Aidan to find out more…
How much were you aware of the story before?
"A little bit. I was aware that it was one of Agatha Christie's most famous stories, but I hadn't read the book although I have done since. I didn't guess the ending though, I don't think anybody will, it's really clever!"
It sounds like a very dark story...
"It's super dark, bleak, grim and quite terrifying. Everyone on the island is there for quite a horrendous, heinous thing and they don't all deserve to live."
Tell us about Lombard...
"He's a mercenary, a gun for hire and he unnerves people. He's quite a ruthless, amoral character and he's out for himself. He's been hired to come here and sort something out, but he just doesn't know what. Lombard has done some horrible things in his past too, but he doesn't seem to care, he knows that they're all being hunted but he's getting a buzz out of that, it's his comfort zone."
You filmed some of it Cornwall, was it strange to be back there after shooting Poldark?
"It was weird and like deja vu standing in a different costume at the side of a cliff in Cornwall. I had to remind myself I wasn't Ross for a second, it was bizarre. But I love that part of the country."
Has Poldark opened new doors for you?
"I can be a little bit more discerning now, but I'm still auditioning for things and not getting them, losing out to actors who are far better known than I am, but that's part of the game. I am just proud of Poldark and it's great it was a success and now I am being Ross again for another six or seventh months while I film the second series. It has been a good year."
What are you doing for Christmas?
"I don't think there's been a Christmas that I haven't been home to Ireland. We finish shooting Poldark on 22nd December and I'll be straight home after that. I can see myself sitting in and watching And Then There Were None with me ma, it's the sort of show I watched growing up, so it's going to be a bit odd sitting down and being in it!"
http://www.youtube.com/watch?v=JyPeQM4OgyU
Caren has been a journalist specializing in TV for almost two decades and is a Senior Features Writer for TV Times, TV & Satellite Week and What's On TV magazines and she also writes for What to Watch.
Over the years, she has spent many a day in a muddy field or an on-set catering bus chatting to numerous stars on location including the likes of Olivia Colman, David Tennant, Suranne Jones, Jamie Dornan, Dame Judi Dench and Sir Derek Jacobi as well as Hollywood actors such as Glenn Close and Kiefer Sutherland.
Caren will happily sit down and watch any kind of telly (well, maybe not sci-fi!), but she particularly loves period dramas like Call the Midwife, Downton Abbey and The Crown and she's also a big fan of juicy crime thrillers from Line of Duty to Poirot.
In her spare time, Caren enjoys going to the cinema and theatre or curling up with a good book.
Thank you for signing up to Whattowatch. You will receive a verification email shortly.
There was a problem. Please refresh the page and try again.