Alan Davies: 'Polly's burned Jonathan Creek's duffel coat!'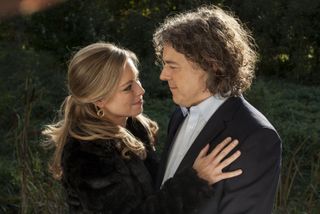 QI star Alan Davies returns to BBC1 with the first new series of Jonathan Creek in nearly 10 years next Friday (February 28).
We caught up with him to talk about a whole new bunch of mysteries and that famous duffel coat...
Jonathan Creek has been on TV for 17 years now, but he's changed a lot hasn't he?
"He's changed completely. He has an office job, he's married to Polly - played by Sarah Alexander - and he has a very different life from when he was working for a magician and living in a windmill. But that's what happens in life, people change as the years go by!"
Does Polly help him solve the mysteries like his other companions?
"Not at all. She's very much against him doing more investigating and wants him to settle down, but slowly she gets drawn in."
What can you tell us about this week's episode, the first of three new mysteries?
"It's an unusual one because we see it in reverse. It's a locked room mystery, but the audience is in on the secret and follows Jonathan as he solves it - a bit like Columbo. But there are lots of other little mini mysteries going on and nothing is as it seems!"
He gets a helping hand from a young protégé who fancies himself as the next Sherlock as well...
"Yes, there's a young criminology student with a very pushy mum who insists he come along with Jonathan. He's greatly influenced by Sherlock Holmes and soon makes a series of lightning quick observations, which are usually very wide of the mark. Jonathan Creek rolls his eyes and lets him get on with it!"
Will we be seeing the return of Jonathan's famous duffel coat?
"I think Polly's burned it!"
Is it good to be back with a three-part series rather than a one-off?
"It's really nice to be doing a series and there's certainly a lot of demand for one because people are always asking me if we're making any more. The worst thing is when adults tell me they used to watch it when they were children!"
Get the latest updates, reviews and unmissable series to watch and more!
Thank you for signing up to Whattowatch. You will receive a verification email shortly.
There was a problem. Please refresh the page and try again.