Animal Orphans host Paul O'Grady: 'I was so tempted to keep Nkala!'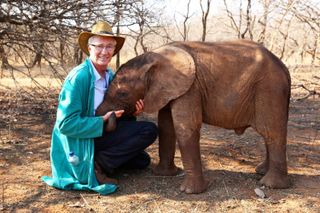 Paul O'Grady talks to TV Times magazine being enchanted by little Nkala the elephant, his hatred for poaching and braving a lion's den for his new series Animal Orphans (ITV, Tuesday)!
In your new series Paul O'Grady's Animal Orphans, you meet a rescue elephant called Nkala…
"I was tempted to keep him, because I got so involved, I was saying in all honesty, 'I've got a massive field - I could have a baby elephant.' But everyone was saying, 'Yeah, but it will grow!'"
Did you share a special relationship with Nkala?
"We literally fell in love with each other. He used to wrap his trunk around my wrist when we went for a walk and he'd lean on me and suckle on my coat."
Was your trip to South Africa, learning about poaching, an eye-opener?
"In 10 years' time there are going to be no elephants or rhinos in Africa, that's what they're saying now. And all this is to make bangles and those carvings from the tusks. It's wanton destruction. And the same with vultures - they are being wiped out because there's a belief in some cultures that if you eat their liver and another organ, you get the vision of a prophecy. So it's all bound up in superstition and witchcraft and the medicine market."
The same can be said for South Africa's penguins, which we find out could be extinct within 15 years! You help out at a seabird sanctuary near Cape Town where you meet a penguin called Winston…
"He followed me everywhere. Winston would come up to me and sit on my knee and I'd say 'Give us a kiss, then,' and he'd rub his beak on my lips. He's a wild penguin, but he was lovely. They said not to pick him up, but I picked him up. He was really sweet."
Were there any animals that you didn't get on with?
"No, I got on with all of them! There was a baby hippo who wouldn't leave me alone and a baby vulture I got very fond of. And the cheetah cubs, they wee magnificent - I'd just lie on the grass and they would pile on top of me and just go to sleep."
Was it a special experience being able to make this series?
"I was allowed to get so close to the animals and I was allowed access to places you would never normally get. I am now patron of God knows how many animal charities since I got back. But I'm happy to be because they all do such great work."
You became quite ill at the end of last year after filming the series…
"I got a Get Well card off Nkala! They sent me a photo saying, 'Oh dear: Get well soon, from Nkala' and that upset me. Seeing this elephant, I was like, 'Oh my baby.' I grew really fond of him."
Is it true that elephants never forget, then?
"The keepers said, 'He'll never forget you.' So when he's a grown elephant, he will look at me and say, 'I know him - he's that daft one who used to give me the bottle and read me fairytales.'"
Get the latest updates, reviews and unmissable series to watch and more!
Thank you for signing up to Whattowatch. You will receive a verification email shortly.
There was a problem. Please refresh the page and try again.