Arise, Dame Penelope Keith!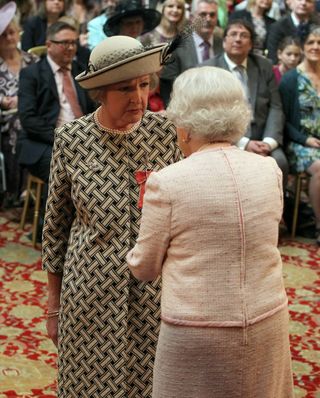 Penelope Keith (opens in new tab) is best known for playing posh characters and she has now officially become a titled woman - a Dame Commander,
Dame Penelope received the honour from the Queen at Windsor Castler for an acting career spanning more than 50 years that has featured memorable roles in such classic sitcoms as The Good Life (opens in new tab) and To The Manor Born (opens in new tab).
The award also recognised her work with good causes, including the Actor's Benevolent Fund.
"It's amazing, it's marvellous recognition for keeping at it for as long as I have," joked Penelope.
"I'm so proud of the fact it's not only for my acting, but also it's for the charities with which I'm associated."
The actress praised her fellow actors from The Good Life, the late Richard Briers, Felicity Kendal and Paul Eddington.
Speaking about the show, Penelope added: "It was extraordinary, it was one of those magic things when everything came together - the writing, the actors, directing.
"All four of us came from the same background. We had all worked in theatre and Richard, darling Richard, had already been a star on television. We were all actors as opposed to comedians and we all liked each other hugely."
Questioned about who Margo was based on, Penelope replied: "Someone asked me that the other day and I said 'no one at all' and I don't think I would have been wildly pleased to have her as my friend. I like to laugh slightly more than she did."
Asked about her conversation with the Queen, Penelope said: "She asked me about the National Memorial Arboretum, with which I'm also involved - it's wonderful. I haven't been up there for a year or two, I must go again because trees deserve revisits every so often."
And will Penelope be using her title?
"Oh yes, I think on the cheque book will be good," she joked.
Some Mothers Do 'Ave 'Em and musical theatre star Michael Crawford was made a CBE in recognition of his efforts supporting a range of good causes and charities.
When Michael met Penelope inside Windsor Castle the two actors shared a laugh and Penelope showed him how she curtsied for the Queen.
Michael is president of The Sick Children's Trust and is patron of the Lighthouse Foundation, an Australian organisation that supports homeless young people by giving them a home, a family and therapeutic care.
After receiving the honour from the Queen, Michael talked about his organisation, the Michael Crawford Children's Charity. "I have always put in a certain amount of my earnings to build it up as a legacy for when I've gone so that my grandchild will carry on with it.
"I've also been president of The Sick Children's Trust for the past 25 years, which supplies homes for parents of children being treated for life-threatening diseases in a major city hospital. It gives them free accommodation and keeps the whole family can stay together. I think that's quite healing."
Get the latest updates, reviews and unmissable series to watch and more!
Thank you for signing up to Whattowatch. You will receive a verification email shortly.
There was a problem. Please refresh the page and try again.