'Jodie Whittaker will be even better next year!' says former Doctor Who star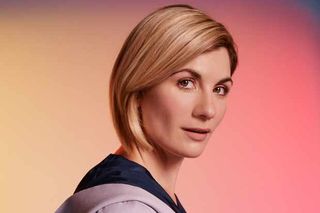 (Image credit: BBC)
The World on Fire star offers his verdict on the new Doctor's debut series and tells us about flying in a real Spitfire...
Arthur Darvill is convinced we'll see the best of Jodie Whittaker when Doctor Who returns for a twelfth series next year.
The World on Fire star, who played TARDIS companion Rory Williams for nearly three years during Matt Smith's time on the show, expects her second outing to be even better than the first.
"I think Jodie is amazing," he told What's On TV. "I'm really looking forward to what they do next year. I always think the second series of anyone in that role is the one where they bloom. You've had the year of 'Will they like it? won't they like it?' and then the second year is great. We saw that with David, Matt and Peter, the second series is the one where they have fun."
Jodie won rave reviews for her performance in last years series, alongside co-stars Bradley Walsh, Tosin Cole and Mandip Gill and the show will be returning in early 2020.
"I know Jodie really well from Broadchurch and she's one of my favourite actors anyway," says Arthur. "She's totally committed in everything she does and has this glint in her eye, this cheeky streak and I think she brings so much to the role."
Arthur also admits to being surprised by the casting of Bradley Walsh as the Doctor's companion, Graham O'Brien... "Who would have thought it!" he exclaims. "But he's brilliant!"
The actor is currently starring in BBC1's sweeping World War Two saga, World on Fire, playing RAF pilot, Vernon Hunter. The story moves into the summer of 1940 this week and the airman will be putting his life on the line as the Battle of Britain looms large on the horizon.
"A friend of mine is a Spitfire aficionado and when I told him I was doing the job he got me a flight in the real deal," says Arthur. "It was one of the best things I've ever done in my entire life. So I got to go up there and feel what it was like, it was amazing and the perspective it gave me was unbelievable.
"It's an incredible plane, but you soon realise how vulnerable you are. I got up there and I was just a little speck. There was another guy up in the German Messerscmitt, so I really got a sense of what it would be like to protect the land from this other person."
The final episode of World on Fire airs on Sunday 10th November on BBC1
Get the latest updates, reviews and unmissable series to watch and more!
Thank you for signing up to Whattowatch. You will receive a verification email shortly.
There was a problem. Please refresh the page and try again.