Ben Tavassoli: 'New Blood unravels in front of your eyes... there's no time to look away!'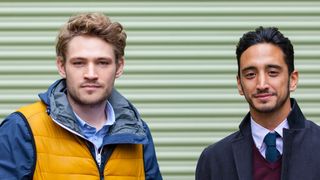 Ben Tavassoli, pictured right, stars in New Blood, a brand crime drama that's already available on the BBC iPlayer and comes to BBC1 in early June. We caught up with him to talk about the show and how he regrets making a joke about series creator Anthony Horowitz…
What is New Blood?
"It's a crime drama with an edge. It's young, it's witty and the investigations don't turn out as you'd expect so I'd guess it's got a little bit of surprise. It's constantly unravelling in front of your eyes so there's no time to look away."
How did you get on with the show's writer, Anthony Horowitz?
"He was great and it was a real honour to work on his show because he's a fantastic writer. We all went out for dinner one night at the start of filming and I made a little comment about him and he said 'I'll remember that'. Then in the seventh episode my character ends up being hung upside down for ages. It was a nightmare to film and I'm sure he was getting his own back on me!"
What other stunts did you have to do?
"We had to jump off a roof into a swimming pool, that was pretty scary. We also had to be chased by a group of men with guns through a hotel. We filmed in a hotel with some people staying in it so when they saw a load of people running around with guns they were pretty worried!"
Did you know much about Anthony Horowitz before you got the part?
"Yes, I loved his Stormbreaker books when I was a kid, so to get a chance to work with him was a real privilege."
How would you describe your character, Rash?
"Rash is a very driven, determined young man who's always dreamed of being a detective but when we first meet him, he's stuck at being a police constable. He's been given the chance of being a trainee detective a couple of times but he never really gets on with his peers as he's a bit of a know-it-all and because he's great at what he does. He tends to clash with people he works with. Maybe he's a bit overly keen but he's a natural."
What aspect of Rash did you like?
"What I liked about Rash as a character is that he's very resilient, he doesn't take any nonsense and I don't think he's too concerned about what people think of him. He does what's right for the job. He doesn't care what his peers think of him – if he's onto something, he'll let them know. He just wants to do what's right for the job to help solve it."
How do you think the audience will take to Rash and his partner Stefan?
"I think people will want to root for the boys because they get themselves in a few David and Goliath situations and you want to root for the underdog. Their relationship in general starts off on the wrong foot but if people like the characters as individuals, I think you'd want them to get together and form this bromance."
How was your relationship with Mark Strepan, who plays Stefan, on set?
"I love to laugh, it's probably my favourite thing in the world to do and he allowed me to do it a good few times. It was such a good laugh. I was happy. We had the same banter and you need ways to blow off steam every now and again if you're churning out scene after scene."
How do you think New Blood differs from other crime dramas?
"It's different as the edit and general theme is so snappy and fast-paced, I can really see people just getting caught up in it. You've barely got a moment to get distracted or daydream, it's just non-stop. I'm biased obviously but I think it's going to be a bit of a treat and they're making something quite special."
How was filming in London?
"Filming in London was a good laugh because it's where I live and I love the city. No matter where and when you're filming, there's always people passing by and stopping and staring. Everywhere you go there's a buzz and I think that helps feed the characters and the story. There's so much diversity in terms of locations so you never get bored. Every day you come into somewhere new and you're seeing all these lovely places."
How would you describe the show in three words?
"Young. London. Jokes."
New Blood is available on BBC iPlayer now and comes to BBC1 in early June.
Get the What to Watch Newsletter
The latest updates, reviews and unmissable series to watch and more!
Feature writer for TV Times, What's On TV, TV & Satellite Week and whattowatch.com
Sean has been writing about all things telly for over 10 years and in that time he's been lucky enough to interview stars like Ian McKellen, Tom Hardy and Kate Winslet. His favourite shows are The Great British Bake-Off, People Just Do Nothing and Succession and in his spare time he enjoys drinking tea, doing crosswords and watching football.