Benidorm's Josh Bolt: Rob's finally grown into a man! (VIDEO)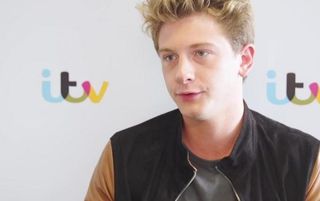 Josh Bolt joined us for a video chat about Rob Dawson's return to Benidorm...
Josh Bolt is back in the new series of Benidorm as Rob Dawson arrives at the Solana with an air of mystery about him. He turns up at the Spanish resort in episode 2 with his new lover, but is it a woman or man who's stolen his heart? The rest of the Dawson family are already at the Solana and are a little unsure what to expect, so they can't wait to find out...
"It's lovely actually because Rob's sort of finally grown into a man," says Josh. "What was lovely this year for me is that he's matured into this young guy and the first year he was preppy, read loads of books and looked after his sister and was quite mature and the second year, series nine, he discovered girls and university and boozing, which was again fun to play but he was a bit of a wreckhead and now he's come back and he's got his own things going, which is lovely. He's been backpacking, he dropped out of university and and he's met someone. So he's grown up a lot.
"His family don't know who he's met as he'd previously sent a text to them saying he's met this wonderful person called Cyd and of course they don't know if it's going to be a boy or a girl. There's always been a bit of ambiguity about Rob's sexuality, granddad's constantly made jokes about it, about him dyeing his hair and he was in bed with Tiger and Joey and he got helped to bed by George Shelley."
Josh goes on to talk about more highlights this year... "For me personally rather than just being the boy in the family it was lovely to have my own thing going on and playing that really. What was nice was that Cyd and me have a lot of stuff outside the pool and Neptune's. It's quite weird to be on different locations around the old town and stuff which was nice to do. The hilarity of course comes from the rest of the Dawsons who are convinced Sid is a drugs mule and is smuggling cocaine into Benidorm."
Josh had previously spoken to us last year about the sad loss of actor Bobby Knutt who plays Rob's grandad Eddie Dawson. You can watch that emotional tribute right here.
Benidorm is on Wednesdays on ITV at 9pm
Get the latest updates, reviews and unmissable series to watch and more!
Thank you for signing up to Whattowatch. You will receive a verification email shortly.
There was a problem. Please refresh the page and try again.