Blackadder could have been axed after just one series, reveals former Beeb boss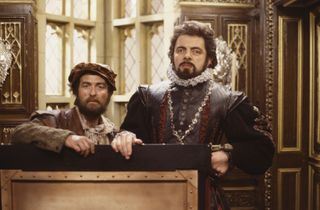 (Image credit: Getty Images)
Blackadder's tour of history was almost cut short
Blackadder, which starred Rowan Atkinson as cunning Edmund Blackadder and Tony Robinson as dopey sidekick Baldrick, nearly only survived one series, former BBC 1 controller Michael Grade has revealed.
Grade, who famously decided to postpone Doctor Who, admitted in an interview with the Evening Standard that Blackadder could have been on his firing list.
The first series of Blackadder, set in the 15th century, had a very different feel about it. For starters Edmund lacked the cutting edge wit he had later on and Grade was clearly unimpressed by what he saw. Rather than axing the show, though, he decided it needed to be shot in a studio.
Talking about series one, he said: "They were all running around the hillsides in Wales trying to shoot a Hollywood comedy on a BBC minuscule budget. I made them come into the studio and do it with an audience. And the rest is history. I saved them from themselves."
WHAT IS ON TONIGHT? Check out our NEW and Improved TV Guide
As Grade eludes to, Blackadder went on to become one of Britain's best loved comedies – the second series saw Edmund in Elizabethan England, the third in the Regency period and the fourth during World War One.
Meanwhile, Grade also spoke about how much he loathed Doctor Who at the time. "I hated Doctor Who. I said to the producer, "Do you go to the cinema much? Have you seen Star Wars or ET?' He said yes. I said, 'I've got news for you so has our audience. What we were serving up as science fiction was garbage."
MORE: Is Doctor Who getting a Christmas special this year?
Grade took the decision to postpone another series of Doctor Who and the show was eventually axed in 1989 by the BBC, before being revived in 2005.
Main picture: Getty Images
Get the latest updates, reviews and unmissable series to watch and more!
Thank you for signing up to Whattowatch. You will receive a verification email shortly.
There was a problem. Please refresh the page and try again.