Eight Alternative TV Endings We Wish HAD Happened!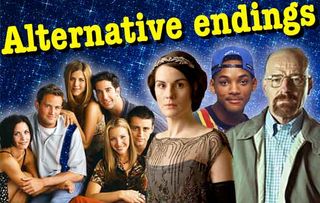 Alternative facts? Fake news? As the world becomes awashed with alternatives, here are eight different endings to TV shows that we wish HAD happened.
When the credits roll in the finale of your favourite TV show, the ending might not always be to your taste. However, what if they weren't actually the real ending? Lets pretend these TV show endings were the ones that REALLY happened! Naturally, major spoilers are below.
1. Breaking Bad
Real ending: Hit by one of his own bullets that were mass-fired at Jack and his crew, Walter White dies as he walks back to his beloved meth lab, with Jessie left fleeing in Todd's car.
Alternative ending: An alternative ending was actually filmed, albeit a bit of a joke one, where Walter White wakes up from a dream next to his wife in Malcolm in the Middle, Jane Kaczmarek (Bryan Cranston starred in both shows). Director, Vince Gilligan has also said how the team discussed other endings including one where White breaks into the downtown Albuquerque jail and starts shooting everyone to rescue Jesse. Now THAT would be an ending.
2. The Sopranos
Real ending: Tony Soprano arrives at the diner, and one-by-one his family join him, all except Meadow who arrives a bit late. As soon as she arrives and opens the door of the diner, Tony looks up and the screen flashes to black. In other words, you're suppose to assume Soprano's been shot.
Alternative ending: Three different endings were all filmed, so the real ending could be kept a secret. One of those is said to have involved an argument between Tony and Silvio at the Bada Bing, but was filmed "just to throw people off", according to creator David Chase. Most fan endings involve arguments rather than deaths, and considering the amount of blood shed during the series as a whole, maybe that would have been a more fitting finale than the cliff hanger we got. So, everyone back to the strip club for a shouting match then?
3. Downton Abbey
Real ending: Happy endings all round: Edith got married, Anna and Bates had a baby and Barrow got the butler job he wanted. The Christmas special (which acted as the finale episode), wrapped everything up in a nice tight festive bow.
Alternative ending: With previous Christmas specials filled with drama, some were left a little disappointed by the picture-perfect endings for most characters. Fan endings include lots of death, distruction and a few of "it was all a dream". Allen Leech (who played Tom Branson) said even he was left a little disappointed by his character's fate, and wished he'd died! Who would have thought the Downton Abbey audience would be so blood-thirsty?
4. Life on Mars (UK version)
Real ending: Sam wakes up back in the present realising everything he had experienced in the show was a dream, but doesn't feel he fits in to the 21st century anymore. He then goes up on the roof of a building and jumps off, returning back to 1973 where his life and people he knows exist.
Alternative ending: Supposedly tying in with Ashes to Ashes, the Wizard of Oz-style ending didn't satisfy some. Parodies have involved him waking up in other TV shows, such as 24, but some of the best alternative endings have suggested a third era where Sam is really from, and the 1973 and 2006 clips were both dreams or even other people from his past! Spooky...
5. Friends
Real ending: Ross confessed his love for Rachel, Monica and Chandler adopt twins and move to the suburbs, and the final scene saw the group leave their apartment for the last time and go to Central Perk for one last cup of coffee. They all lived happily ever after, ahhh....
Alternative ending: Suggested by a Twitter user in 2015 which went viral, the alternate ending sees a meth-addicted Phoebe staring through the window of Central Perk: "All 10 series were merely her fevered imagination, projecting herself into the lives of the others. All she ever wanted was…Friends." Dark, it perhaps would have been the most controversial TV ending in history for this happy, upbeat show.
6. Lost
Real ending: The final scene shows people gathering in a church before the final image of the plane wreck with no one in it. You're meant to assume the characters had been dead all along and there were in fact no survivors from the crash in the very first episode.
Alternative ending: Although showrunners claim the characters weren't dead all along as implied in the finale, that didn't stop many fans from being disappointed by the ending. A better final episode was suggested by the site Gizmodo, who said it should have gone full-on psychedellic fantasy on us, with a 2001: A Space Odyssey-style ending. Should Jack have turned into a giant baby? Yes, he definitely should have. Should aliens have taken over the island? Absolutely. Epic, crazy and a big statement about the fantasy-inclinations of the show, the ending should have mirrored what the rest of the series was hinting at.
7. Only Fools and Horses
Real ending: Threatened by Inland Revenue of being evicted from their flat, money given to them from Uncle Albert's will saves the day. Cassandra goes into labour, with Rodney becoming a dad. After visiting the grave of Del's dad, they travel back to their Peckham flat with the new baby.
Alternative ending: Several further episodes and sketches have been filmed for Comic Relief, but the series itself was actually due to finish earlier than it did. Midway through series five (it later ran for over seven), David Jason said he wanted to leave the show, and the 'Who Wants to Be a Millionaire?' episode was written as the finale. Del was due to accept a friend's offer and set up a business in Australia, leaving Rodney behind. However, as Jason changed his mind about leaving the show, the episode was changed to show Del rejecting the offer. You plonker...
8. The Fresh Prince of Bel-Air
Real ending: Uncle Phil and Aunt Viv sell their house in Bel-Air, with Will promising to still speak to Phil every week now they will no longer live together. Will then turns out the lights in the family home and the show ends.
Alternative ending: Internet conspiracists point to the opening rap in the show, and say that Will Smith's character is actually dead before he even reaches Bel-Air, after he got in a fight at school. Bel-Air is therefore supposed to represent heaven, and when his parents visit him (infrequently) they are actually visiting his gravesite. Dark, but maybe the ending to this show could have explained the theory and confirmed that Will Smith is dead all along...
Thank you for signing up to Whattowatch. You will receive a verification email shortly.
There was a problem. Please refresh the page and try again.