Blue Planet Live's Chris Packham: 'We're testing whale snot!'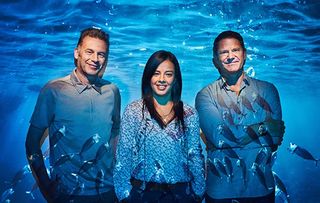 (Image credit: BBC / Joe Giacomet)
Chris Packham on exploring the challenges faced by life in our oceans as he hosts Blue Planet Live
The Blue Planet in 2001 and its 2017 sequel Blue Planet II opened viewers' eyes to the devastating environmental threats marine life is facing.
Now BBC1's ambitious follow-up Blue Planet Live, hosted by Chris Packham, Liz Bonnin and Steve Backshall, follows stunning species across the globe and looks at what is being done to protect them. Meanwhile BBC1's daytime companion show Blue Planet UK, hosted by Chris, Steve Brown and Gillian Burke, reports on the state of British waters.
Here, Chris Packham tells TV Times about Blue Planet Live…
TV Times: You will travel to the Sea of Cortez in Mexico for Blue Planet Live. Why is that an important site?
Chris Packham: "It's an extraordinary location and the world's primary birthing centre for many whale species from greys to humpbacks and blues. We're hopefully travelling down the peninsula looking at different species and the problems they face. Some whale calves are not surviving a year. There are high mortality rates in adults too."
TVT: How will you examine the whales' health?
CP: "We'll use a 'snot bot'! The whale comes to the surface and blows and you fly a drone through it. Then material settles on the Petri dish attached to the drone. Whale snot is like sprouts that have been left cooking for three days and the smell remains for ages! But the information you get is phenomenal."
TVT: Are you hoping to see any new behaviour?
CP: "Viewers of Blue Planet II saw sperm whale calves stay on the surface and wait for adults to dive and feed on squid and then they'd suckle. But our cameras have started filming and have seen young sperm whales are diving too. They are maybe feeding on squid alongside the adults. This perhaps indicates they aren't doing well for milk and need to supplement their diet.
TVT: Can we be optimistic about the future of our oceans?
CP: "It is a paradoxical time. We're learning more rapidly about species but they're disappearing quicker than ever before. But we've evolved technology that allows us to understand what has implemented that decay and to build a toolkit, which could lead to recovery."
Blue Planet Live airs on BBC1 on Sunday 24 March, Wednesday 27 March, and Thursday 28 March at 8pm Blue Planet UK airs on BBC1 from Monday 25 March to Friday 29 March at 4.30pm
Caren has been a journalist specializing in TV for almost two decades and is a Senior Features Writer for TV Times, TV & Satellite Week and What's On TV magazines and she also writes for What to Watch.
Over the years, she has spent many a day in a muddy field or an on-set catering bus chatting to numerous stars on location including the likes of Olivia Colman, David Tennant, Suranne Jones, Jamie Dornan, Dame Judi Dench and Sir Derek Jacobi as well as Hollywood actors such as Glenn Close and Kiefer Sutherland.
Caren will happily sit down and watch any kind of telly (well, maybe not sci-fi!), but she particularly loves period dramas like Call the Midwife, Downton Abbey and The Crown and she's also a big fan of juicy crime thrillers from Line of Duty to Poirot.
In her spare time, Caren enjoys going to the cinema and theatre or curling up with a good book.
Get the latest updates, reviews and unmissable series to watch and more!
Thank you for signing up to Whattowatch. You will receive a verification email shortly.
There was a problem. Please refresh the page and try again.