Sir David Attenborough has revealed why he's 'astonished' at the response to Blue Planet II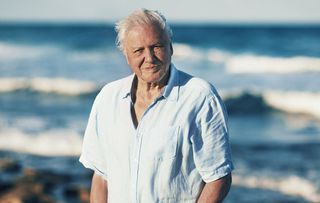 (Image credit: BBC NHU 2017)
The BBC broadcaster has spoken out after the BBC announced some big news
Sir David Attenborough has revealed he's been shocked by the response his award-winning series Blue Planet II has had after the BBC announced their launching more programmes on the issue of plastic pollution.
The 92-year-old broadcaster has been a keen advocate for the protection of wildlife, and has now said viewers of the show are starting to stand up and make a change.
Speaking in a short, online film, the veteran said: "We hoped that Blue Planet II would open people's eyes to the damage that we are doing to our oceans and the creatures that live in them.
"I've been absolutely astonished at the result that that programme has had. I never imagined there would be quite so many of you who would be inspired to want change."
Following the airing of Blue Planet II last year, fans of the show flocked to Twitter to express their heartbreak over what plastic was doing to the ocean.
"Blue Planet 2 on TV...I'm nearly crying....my God we must do something about plastics in our oceans", said one viewer at the time.
While another added: "If you can watch Blue Planet and not feel totally heartbroken there's something seriously wrong with you.. We're destroying these beautiful animals and their habitats".
And it looks like the series - which was the most-watched TV programme of 2017 with 37.6 million viewers in the UK - has had a long-term effect on the nation as Attenborough went on to praise families who have "changed their habits" and "searched for ways to reduce their single-use plastic footprint".
"Right now, eight million tonnes of plastics ends up in the oceans every year," the presenter continued.
"But you, by your responses, have shown that, if we start doing those small steps that are easily achievable, we can before long really have an effect.
"The actions of just one of us may seem to be trivial and to have no effect. But the knowledge that there are thousands, hundreds of thousands of people who are doing the same thing – that really does have an effect – so please join us."
His comments come after the BBC announced they had created more programmes to spread awareness including 'War On Plastics' - presented by Hugh Fearnley-Whittingstall - which will look at "the devastation that plastic waste is having on our planet".
Another 90 minute special 'Drowning In Plastic' will "reveal the full scale of the world's plastic problem and its impact on wildlife", while Stacey Dooley will also present 'The Truth About What You Wear', which looks at the damage the clothing industry is having on the environment.
Get the What to Watch Newsletter
The latest updates, reviews and unmissable series to watch and more!