Buffy The Vampire Slayer: Fan backlash against planned series reboot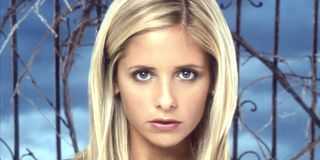 Soon after the announcement Buffy The Vampire Slayer is being rebooted, social media went into meltdown with an angry backlash...
It seems like a new TV reboot is announced every week. The latest is an updated version of Buffy The Vampire Slayer, which originally ran between 1997 to 2003 and was shown on BBC 2 in the UK.
However, following the announcement of the reboot, which has the involvement of original writer/executive producer Joss Whedon and will feature an African-American actress in the lead role, fans of the original series took to social media to voice their annoyance and confusion over the news:
Is the new version just a remake of the original but with different actors playing the same characters? Or is the lead character actually a descendant of demon slaying Buffy Summers (played by Sarah Michelle Gellar)? And if so, why is the reboot still called Buffy The Vampire Slayer?
https://youtu.be/NyT1Od9Q5Dc
During last year's celebrations to mark the 20th anniversary of the original, when asked about a possible reboot, Joss Whedon told The Hollywood Reporter:
"You bring something back, and even if it's exactly as good as it was, the experience can't be. You've already experienced it, and part of what was great was going through it for the first time. You have to meet expectations and adjust it for the climate, which is not easily done. I'm more worried about me being creaky as a storyteller. You don't want that feeling that you should have left before the encore. I don't rule it out, but I fear that."
Luckily for fans who prefer their vampire slaying old skool style, the original Scooby Gang live on through a successful comic book series, which picks-up where the TV show ended. Over 100 issues have been published so far plus special spin-offs for popular characters including Angel, Faith, Willow, Spike and Giles.
Get the latest updates, reviews and unmissable series to watch and more!
Thank you for signing up to Whattowatch. You will receive a verification email shortly.
There was a problem. Please refresh the page and try again.