Carol Vorderman: 'Two of my best friends are Pride of Britain winners. It's like a family'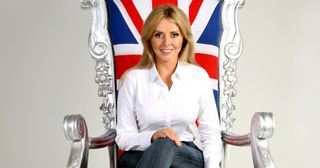 (Image credit: Daily Mirror)
After 18 years of hosting Pride of Britain, Carol Vorderman explains how and why it's become such an important annual event
Pride of Britain host Carol Vorderman tells us why one of this year's award winners really touched her heart...
Why are the Pride of Britain Awards so special? "This is our 18th year so I hope everyone knows by now! We're celebrating ordinary people who have done truly extraordinary things and our lives are richer for knowing there are people out there like them."
Did any of this year's winners' stories stand out for you? "One that particularly touched me was that of 12-year-old Nikki Christou, who has won a Child of Courage Award. When she was six, she developed a condition called arteriovenous malformation (AVM) which has malformed part of her face and people comment on it. This really touched my heart because my brother was born with a severe cleft lip and palate.
"Nikki has undergone more than 20 major operations and it's a very painful condition. But she very bravely launched a YouTube channel in which she talks about her illness and gives make-up tips. She has raised more than £250,000 for research into AVM."
https://youtu.be/dop6JIlBtec
You've been presenting the awards since they began in 1999. Did you imagine back then it would be as big as it is today? "No, I didn't! It wasn't even televised the first year. I knew we should put it on telly when we presented an award to a student who had contracted adult meningitis and had to have her limbs amputated. All I could see was everyone in the room crying, including all the celebrities."
How do you stop yourself from getting too tearful? "I think I get more emotional as the years go by! Sadly, there are so many Children of Courage winners who have died since they received their awards because they were terminally ill, while others come back year after year and it's like a family really. In fact, two of my best friends were award winners."
It is a real star-studded event, isn't it? "Everybody wants to be at the Pride of Britain! The list of celebrities who want to come just gets longer and longer. Simon Cowell has always been a big supporter and this year's guests include Dame Maggie Smith, Take That and Prince Charles."
The Pride of Britain Awards 2016 screens on Tuesday, November 1 at 8pm on ITV
Get the latest updates, reviews and unmissable series to watch and more!
Thank you for signing up to Whattowatch. You will receive a verification email shortly.
There was a problem. Please refresh the page and try again.