Chris Packham: Nature therapy works for mental health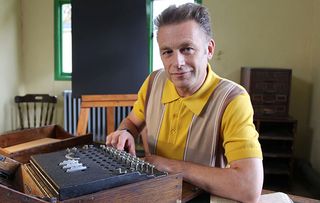 (Image credit: BBC/72 Films)
Winterwatch presenter Chris Packham talks candidly about wildlife, mental health and his new royal honour…
Wildlife expert, naturalist, photographer, painter, campaigner and self-confessed punk rocker, Chris Packham delightfully defies categorisation. From his outspoken views on wildlife to his 2017 documentary about his experiences of autism, Chris is not afraid to make headlines. And the BBC presenter has been back in the news again recently after being awarded a CBE for services to nature conservation in the New Year honours list.
The tireless environmental activist makes a welcome return to our screens next week, as part of BBC2's popular nature series Winterwatch, with Michaela Strachan and Gillian Burke.
As the team sets up their camp and hidden cameras in the Cairngorms National Park, we talk to Chris Packham to hear more…
Congratulations on your CBE. How should we address you now you're a Commander of the British Empire?
Chris Packham: "I don't want to even talk about it! I'm the same as I always was. It was a surprise. It wasn't something I'd ever contemplated and I'm not one for prizes. However, I was pleased because it was awarded for services to conservation. I'll do everything I can to put it to good use wherever the opportunity arises."
What's new about this year's Winterwatch?
CP: "This year Winterwatch, Springwatch and Autumnwatch will all be coming from the same location, the Cairngorms National Park in Scotland. I was very much one of the team campaigning to base ourselves for a whole season in one place. The opportunity to look at the Scottish Highlands through a calendar year will provide the full picture that we naturalists love – we're not so keen on snapshots!"
What is happening in the Cairngorms right now?
CP: "They are running the largest land conservation project in the UK, called Cairngorms Connect. It's set to run over 200 years in order to re-establish the native woodland habitat. Our systems of government, irrespective of who's governing, are just not there for long-term projects. Longer-term conservation investments are rare and increasingly valuable. The Watches are always keen to give credit where credit is due and help broaden awareness."
What other issues are you exploring?
CP: "I'm meeting Joe Harkness author of Bird Therapy, a really good book about why nature therapy works for mental health. He's a great bloke, and extraordinarily candid. I know when I'm out in the woods I feel better. As a kid I went there to get away from the school bullies. I didn't realise it is also a place where my disposition changed. I became calm, rested and relaxed. As an adult I've come to realise my daily dog walk is the most important piece of therapy I have."
You're refreshingly honest about your autism and health. Is it difficult having the personal and private made public?
CP: "No, I'm very fortunate that I've a small voice to affect positive change. Of course sometimes it's uncomfortable, but only by being candid and truthful can I help other people.
"I still worry about all those kids who, like me aged 18, are sat in their bedrooms listening to The Smiths and thinking about killing themselves. These are creative, able, good people who have the capacity to grow. We have to make sure we can give them the foundation to do that.
"If I can add just something to that, even if it comes at a personal cost… Like I said, I don't need a prize. For me winning's not about getting a medal or cup, it's about never giving up. You don't pick your fights because you think you can win them. You pick them because they're the right fights to pick. You may not win but you've got to keep trying."
Winterwatch is airing on BBC2 next week.
Get the latest updates, reviews and unmissable series to watch and more!
Thank you for signing up to Whattowatch. You will receive a verification email shortly.
There was a problem. Please refresh the page and try again.