Chris Packham: 'I said 'No' when they first asked me to host Me and My Dog'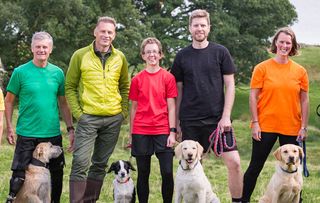 (Image credit: BBC/Wall To Wall Media/Harry Atk)
Wildlife presenter Chris Packham reveals he almost turned down BBC1's new competition Me and My Dog
BBC1 looks to have found the 'paw-fect' replacement for The Great British Bake Off by swapping pastry for pooches in fun new competition Me and My Dog: The Ultimate Contest (Wednesday, April 5). Here, presenter Chris Packham tells us more…
The series combines your lifelong love of dogs and passion for working in the great outdoors as it's filmed in the Lake District. We bet you jumped at the chance when you were offered it? "The opposite! There have been so many dog programmes on TV over the last few years and some have started to get repetitive. So when they asked, I said 'No thanks'. But then they explained that the programme's underlying purpose is to facilitate people having better relationships with their dogs through understanding them more, and I was on board."
The contest sees eight amateur competitors and their dogs taking part in a series of physical and mental challenges to show how strong the bond between them is. Tell us more… "It's about applying the science we have learnt to make dogs' lives happier. Hopefully viewers will transpose what they see into their own relationships with their dogs. I was worried when I met the dogs that some were clear contenders in terms of physical and cognitive ability to win. But because we vary the challenges so much, over the course of the series every dog has its day."
https://youtu.be/BA8L2gXsqIU
The pairs are split into two groups and during each round face different activities that test the same core skills, with the theme of episode one being communication. What skills are you looking for the couples to demonstrate? "A lot of people perceive that you can tell your dog what to do and it'll listen. But what dogs look for is the tone of your voice and they're also visually orientated so our first trial is trying to get the owners to use just their eyes to get their dog through a gate. It sounds ludicrous, but dogs read our emotions very effectively and can tell from the shapes of our mouths and eyes whether we are angry or happy."
Why are dogs man's best friend? "Dogs never let you down, they're constantly loving without any partitions, and you can trust them implicitly, which you can't always do with human beings. I call my dogs 'joy grenades' because each time they go off, they make me happy. Seeing them run for the sheer joy of running across a sandy beach, I can't help smiling. You can't put a price on that, can you?"
Thank you for signing up to Whattowatch. You will receive a verification email shortly.
There was a problem. Please refresh the page and try again.